What was it like growing up in 19th century California? Here are stories by three kids who were there; an Indian girl, a Mexican boy and a Gold Rush girl. Lucy, Ygnacio and Eleanor lived long ago but were like kids today in many ways. Lucy remembered her grandfather. Ygnacio knew a lot about animals. Eleanor loved books and toys.
In English and Spanish.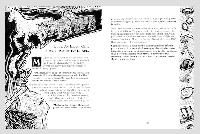 Based on primary sources. Illustrated by Rick Wheeler.
$10 each.
$5 for postage + $1 per copy + 8.75% sales tax.
PO Box 1802
Sonoma, CA  94576