January 27
Business in 1827
Le Héros anchored in San Francisco Bay to trade for furs to sell in China. But because its goods did not interest the Indians or Mexicans, the ship spent nearly two years trying to trade its cargo.
Overland Trail in 1847
Patrick Breen, travelling with the Donner Paty, wrote in diary: "Began to Snow yesterday & still continues to sleet. Thawing a little. Wind W. Mrs. Keyber here this morning… Keysburg sick & Lanthrom lying in bed the whole of his time. Don't have fire enough to Cook their hides. Bill & Sim. Murphy sick."
Fairs in 1894 
The Midwinter International Exposition opened in San Francisco's Golden Gate Park. It featured an Electric Tower, a Fine Arts Building and a Royal Pavilion. 
Music in 1962   
The Chubby Checker Twist Party at the Cow Palace, attended by 17,000 fans became the first big rock concert in Bay Area history.
Architecture in 1969      
Transamerica Corp. announced plans to build a tower in San Francisco. Work on the 853-foot Pyramid was completed in 1972.
Crime in 1969        
Byron Booth and Clinton Smith, convicts, escaped from the California Institution for Men at Chino. The next day they bought tickets to fly from Los Angeles to Miami. They hijacked the plane and it landed in Cuba. Officials removed the hijackers then the plane continued to Miami. 
Transportation in 1971  
BART's tunnel to the Montgomery Street Station was`holed thru,' completing the tunneling for the two-level Market Street subway after six years.
Sports in 1973  
UCLA's basketball team won its 61st game in a row, setting a NCAA record.
Accidents in 1984
Michael Jackson burned his head when a special effects accident caught his hair on fire while recording "Billie Jean" for a Pepsi Cola commercial in Los Angeles.
Crime in 2009       
Kraft Foods and Frito-Lay managers admitted to taking $318,000 in bribes from Randall Rahal, a former sales broker for SK Foods of Lemoore, a major Central California tomato processor. 
Crime in 2009       
Police found seven people dead at a home in Wilmington near Los Angeles.  Ervin Lupoe killed his children and wife before killing himself. Both parents had been recently fired from their jobs.
Business in 2010       
Steve Jobs introduced Apple's iPad to bridge the gap between smartphones and laptops at MacWorld in San Francisco. 
Zinn in 2010        
Howard Zinn, historian, teacher and political activist, died of a heart attack in Santa Monica at age 88. His work included A People's History of the United States (1980).
Government in 2012       
The California Air Resources Board approved strict vehicle emissions called the Advanced Clean Car program. It would reduce greenhouse gas emission by 50% by 2025.
January 28
Business in 1880 
Henry Casebolt, San Francisco inventor of the cable car grip, sold his interest in the Sutter Street Railway.
Post Offices in 1890
A U.S. post office opened at Ingomar, near Los Banos in Merced County. The post office closed in 1921.
Crime in 1911
San Francisco police arrested 145 people for gambling in a raid on a San Francisco poolroom.
Beverly Hills in 1914 
Beverly Hills incorporated.
Accidents in 1948 
A plane chartered by U.S. Immigration Services carrying 32 people crashed west of Coalinga. There were no survivors.
Accidents in 1969
An oil well off the Santa Barbara coast became the largest oil spill in the U.S. at the time. Today it ranks third after Deepwater Horizon (2010) and Exxon Valdez (1989) spills. In response to this blowout, modern environmental protection laws were passed.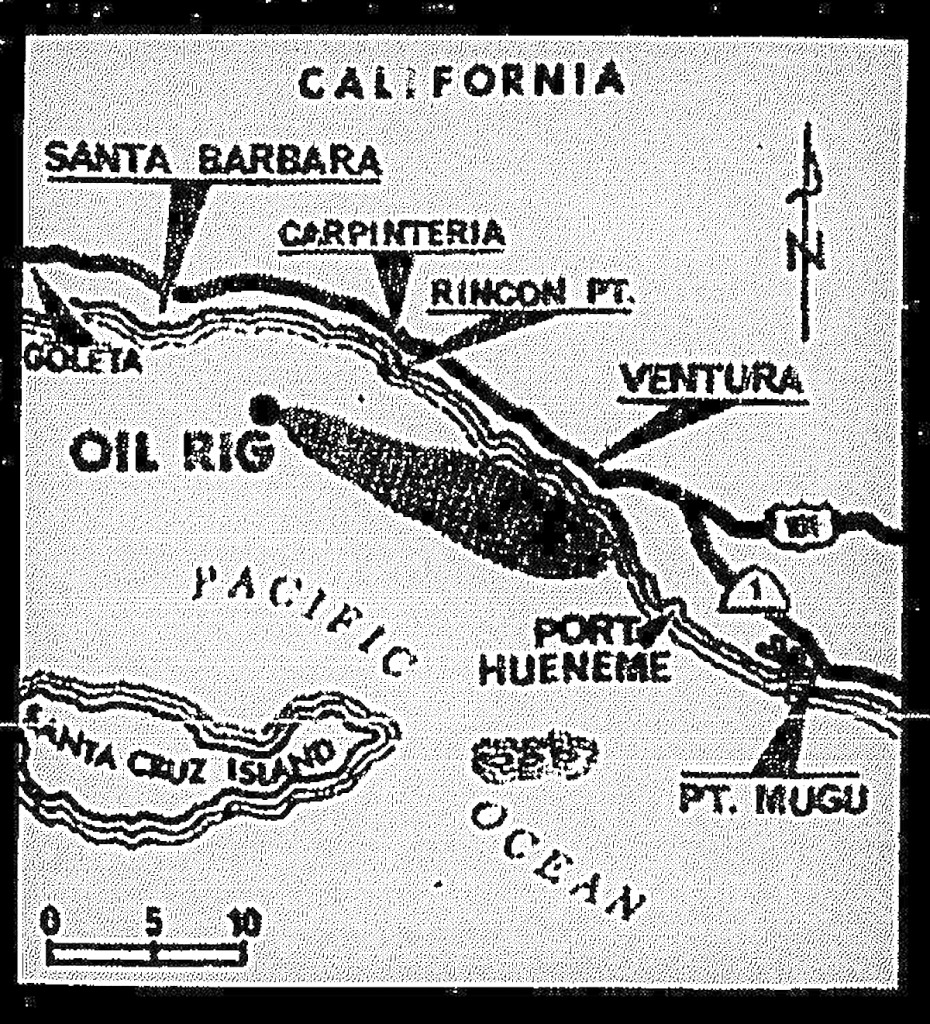 Sports in 1984 
The Los Angeles Kings shut down Wayne Gretzky, ending his historic 51-game scoring streak.
Music in 1985 
"We are the World" was recorded in Hollywood by the group USA for Africa to provide funds for famine relief. It featured many famous singers and sold 20 million copies.
Accidents in 1986 
An oil spill began when the tank barge Apex Houston lost a hatch cover while being towed from the Shell Oil refinery in Martinez to Long Beach. It spilled some 25,800 gallons of crude oil, killing some 6,500 seabirds along Marin, San Francisco, San Mateo, Santa Cruz, and Monterey Counties.
Sports in 1990 
The San Francisco 49ers the beat Denver Broncos, 55-10, in Super Bowl XXIV.
Accidents in 1994 
A helicopter crashed into a San Jose office building, killing the pilot.
Crime in 1996  
Gunner Lindberg, of the Insane Criminal Posse, murdered Thien Minh Ly at a Tustin high school in a racially motivated attack. Lindberg was convicted and sentenced to death.
Business in 2002 
Palm Inc., in Sunnyvale, introduced a handheld computer with wireless e-mail and message service.
Gray in 2007 
Jim Gray, age 63, acclaimed computer scientist, disappeared while sailing from San Francisco to the Farallon Islands, some 25 miles from the Golden Gate Bridge.
Business in 2008 
Security costs for Governor Schwarzenegger and other top state officials reportedly approached $38 million a year.
Crime in 2008
Pegasus Wireless, a Fremont technology company, filed for bankruptcy. Stephen Durland, its financial officer, was later convicted of fraudulent stock sales and Jasper Knabb, its CEO, was sent to federal prison for stock fraud.
Accidents in 2008
One worker was killed and two others badly injured when a 5-story power plant tower collapsed during demolition in San Francisco's Hunters Point neighborhood.
Business in 2010
Dhar Mann, age 25, opened iGrow, a shop for medical marijuana in a 15,000-square-foot warehouse near the Oakland Airport.
Protests in 2012
Oakland riot police fought with anti-Wall Street protesters, fired tear gas and bean bag projectiles and arrested some 200 people in clashes that injured three officers and at least one demonstrator.
Crime in 2012
A California police officer under investigation for sex with a minor was shot and killed by fellow officers as they tried to arrest him in Santa Maria.
January 29
Inventors in 1878
Clara L. Bradley, of San Francisco, patented a ladies underwear; "as by this improvement only one skirt is necessary, and this one possesses all the advantages of the several skirts now generally worn, and also to furnish a skirt which is peculiarly adapted to the present style of close-fitting garments."
Hollywood in 1958
Paul Newman and Joanne Woodward, movie stars, married. Newman, the legendary actor and political activist, created a food company, Newman's Own, and a foundation that "uses the power of giving to help transform lives and nourish the common good."
Movies in 1959 
Walt Disney, in Burbank, released the animated musical film "Sleeping Beauty," the last Disney animated fairy tale until "The Little Mermaid" in 1989. 
Music in 1967
Mantra-Rock Dance, a benefit for the San Francisco Hare Krishna temple, was one of the great events in hippie history and probably the first rave.

Prinze in 1977
Freddie Prinze, Sr., comedian and actor, shot himself and died in Los Angeles at age 23. His starred in "Chico and the Man" (1974-1977) and fathered Freddie Prinze, Jr., also an actor. 
Sports in 1980 
The Cleveland Cavaliers beat the Los Angeles Lakers, 154-153, in quadruple overtime. The Lakers  won the NBA championship that season.
Architecture in 1985
Goldie Shack, one of 5,610 shacks built to house people following the 1906 San Francisco Earthquake and Fire, was moved to the San Francisco Presidio for preservation.
Sports in 1994
The San Francisco 49ers became the first team to win five Super Bowl titles; 1981, 1984, 1988, 1989 and 1994.
Sports in 2002
The San Diego Chargers hired Marty Schottenheimer as their 13th head coach
Business in 2009
A California judge ruled that Governor Schwarzenegger could force state workers to take furloughs to close the budget gap.
January 30
Cities in 1847
Yerba Buena was renamed San Francisco by order of Alcalde (mayor) Bartlett who wanted the town to have an American name following the Mexican American War.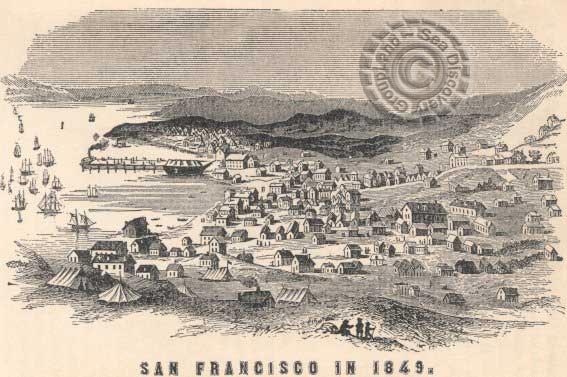 Overland trail in 1847
Patrick Breen, traveling with the Donner Party, wrote in his diary that in payment for a debt, John and Edward Graves took Mrs Reid's goods and hides that she and her family would live on, leaving her with just two pieces of hide.
Movies in 1931 
Charlie Chaplin's "City Lights" premiered at Los Angeles Theater.
Hackman in 1931 
Gene Hackman, actor, was born in San Bernardino. In a 50-year career, he won two Academy Awards, including best actor in "The French Connection" (1971).
Boothe in 1955 
Jill Boothe, Los Angeles-born national skiing champion, crashed and broke her neck while trying to make the U.S. Olympic team. Paralyzed below her shoulders, she spent the rest of her life in a wheelchair. Boothe wrote, typed and painted using her neck and shoulder muscles with the help of a hand brace.
Computers in 1982
Richard Skrenta wrote the first PC virus code disguised as an Apple boot program called "Elk Cloner." It caused no damage but was a practical joke.
Misheloff in 1989 
Ilene Misheloff, age 13, disappeared in Dublin while walking home from school and has not been seen since.
Transportation in 1993 
Los Angeles inaugurated the Metro Red Line, the city's first modern subway.
Sports in 1996
Magic Johnson returned to play for the Los Angeles Lakers four years after retiring from professional basketball.
Business in 2009 
Chevron, in San Ramon, reported a record $23.93 billion annual profit.
Protests in 2011 
Some 800 to 1,000 people protested against the influence of Charles and David Koch, brothers who finance conservative causes. They disrupted a political retreat in Rancho Mirage run by the Kansas billionaires. 
Education in 2012
Claremont College admitted to submitting false SAT scores since 2005 to improve the school's ranking.
January 31
Overland trail in 1847
Patrick Breen, travelling with the Donner Party, wrote in his diary: "Lantron Murphy died last night about 1 o'clock. Mrs. Reid & John went to Graves this Morning to look after her goods."
Government in 1848
John C. Frémont was convicted by a military court of mutiny, disobeying a superior officer and military misconduct. He later became the first Republican Party presidential candidate.
Orphans in 1851
The San Francisco Orphan's Asylum was founded, the first in California. It helped kids whose parents died on their way to the Gold Rush. 
Grey in 1872
Zane Grey, author, was born. He was famous for Western fiction, like Riders of the Purple Sage (1912). Many of his books became screenplays for television and movies. His home in Altadena is a registered historic place.
Accidents in 1957
A commercial airliner and a military fighter jet collided then crashed into Pacoima Junior High School in the San Fernando Valley. Seven people were killed and 75 injured. 
Business in 1972
Herb Peterson created the Egg McMuffin at his Santa Barbara McDonald's franchise.
Goldwyn in 1974 
Samuel Goldwyn, film mogul, died in Los Angeles at age 95. He founded and and ran several film studios in Hollywood in the early 1910s, including MGM Studios.
Protests in 1976 
Some 1,000 people joined the Continental Walk for Disarmament and Social Justice led by comedian Dick Gregory and Rev. Ralph Abernathy in San Francisco. Protestors marched across the U.S., reaching Washington, D.C. that October.
Sports in 1988 
The Washington Redskins beat the Denver Broncos, 42-10, in Super Bowl XXII, played in San Diego.
Sports in 1993 
The Dallas Cowboys beat the Buffalo Bills, 52-17 in Super Bowl XXVII, played in Pasadena.
Kelley in 2012 
Mike Kelley, artist, committed suicide in South Pasadena at age 58. He worked with found objects, drawings, assemblies, performance and video. He was described as "one of the most influential American artists of the past quarter century …"
Accidents in 2000
Alaska Airlines flight #261 crashed into the Pacific Ocean off the coast of Point Mugu, killing all 88 people aboard. It was reportedly caused by inadequate maintenance.
February 1
Literature in 1836
The Pilgrim, with Richard Henry Dana aboard, sailed from Santa Barbara to return to Boston. Dana dropped out of Harvard to sail for Alta California to trade for hides and tallow. His adventures became the basis for one of the best eyewitness accounts of Mexican California, Two Years Before the Mast (1840).
Prisons in 1939 
Some 4,00 prisoners at San Quentin Prison, in Marin County, went on a hunger strike to protest the prison's food.
Post offices in 1961
A U.S. post office opened in Rancho Mirage. The community near Palm Desert in Riverside County, has been a popular destination for the rich and famous since the 1930's.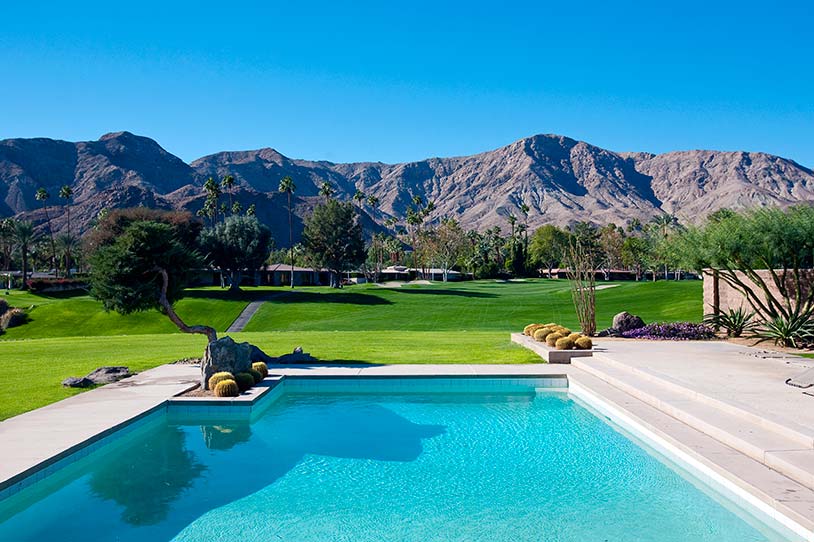 Crime in 1979
Patty Hearst was released from a San Francisco prison. The daughter of wealthy newspaper family was kidnapped by political revolutionaries, brainwashed, and joined in a bank robbery. 
Radio in 1986  
KHJ-AM in Los Angeles changed its call letters to KRTH. It began on August 11, 1941 as the first FM station in Los Angeles. Today it plays oldies. 
Gambling in 1987 
Terry Williams, of Los Gatos, won the largest slot machine payoff in Reno, Nevada to that time. He won $4.9 million after getting four lucky "7s" on a machine.
Novak in 1990 
Jane Novak, silent film era actress, died in Woodland Hills at age 94. 
Accidents in 1991
USAir Flight 1493 crashed into SkyWest Flight 5569 while landing at LAX in Los Angeles, killing 35 people.
Sports in 1992
Barry Bonds, San Francisco Giants outfielder, signed baseball's highest single year contract at that time, $4.7 million. 
Crime in 2002 
Winona Ryder, actress, was charged with shoplifting at a Saks Fifth Avenue store in Beverly Hills.  
Crime in 2002 
Danielle van Dam, age 7, disappeared from her San Diego suburban home. David Westerfield, a neighbor, was convicted of her kidnapping and murder and sentenced to death.
Business in 2005 
Sun Microsystems, of Santa Clara, began selling information technology on a pay-per-use basis, offering computing power for $1 per hour.
Vernon in 2005 
John Vernon, character actor, died in Los Angeles at age 72. He played nasty Dean Wormer in "National Lampoon's Animal House" (1978).
Business in 2011 
Chevron Corp., in San Ramon, sued a team of lawyers who fought the company over oil field pollution in Ecuador. Chevron claimed the lawyers tried to extort some $113 billion related to an 18-year-old lawsuit.
Government in 2012 
The California Public Utilities Commission approved a program for PG&E customers who refused SmartMeters and wanted to keep their analog gas and electricity meters. Those customers paid $75 plus $10 per month.
February 2
Forts in 1811 
Russian settlers established Ft. Ross on the Sonoma coast. It was a base for fur hunters and a warm weather supplier for the Russian colonies in Alaska. Colonists included 25 Russians and some 80 Aleut Indians. Today Fort Ross is a State Historic Park.
Gold Rush in 1848
The first Chinese, two men and a woman, reached San Francisco on the American brig Eagle. Why they went to California and what became of them is unknown.
 Mexican American War in 1848
The Treaty of Guadalupe Hidalgo was signed, formally ending the Mexican American War. 25,000 Mexicans and 12,000 Americans died in the 17-month old conflict. The U.S. acquired California, Texas, Colorado, Arizona, New Mexico, Nevada, Utah and part of Colorado.
Post offices in 1856
A U.S. post office opened in Novato. Today's Marin County community of about 51,904 people was originally home to Coast Miwok villages called Chokeche, Puyuku, and Olompali.
Movies in 1914 
Charlie Chaplin's first film appearance, "Making a Living" premiered. It was 13 minutes long and also featured the Keystone Kops. 
Race relations in 1934 
The San Francisco Police Commission issued regulations for dance nightclubs that included a rule against black and white people dancing together.
Race relations in 1942
A Los Angeles Times column, following Japan's bombing Pearl Harbor, urged security measures against Japanese-Americans, arguing that a Japanese-American "almost inevitably … grows up to be a Japanese, not an American." 
Fires in 1969 
Fire destroyed a 22-room mansion at Rancho Olompali in Marin County occupied by members of "the Chosen Family," a loose-knit hippie commune led by Donald McCoy.
Parks in 1992 
Bert Parks, longtime "Miss America" emcee, died in La Jolla at age 77.
Kelly in 1996 
Gene Kelly, dancer, actor and choreographer, died in Beverly Hills at age 83. He was famous for his part in the musical film "Singin' in the Rain" (1952).
Crime in 1997 
Authorities in Vallejo recovered 500 pounds of stolen dynamite and arrested two men for bombings three bank teller machines and a courthouse wall. 
Carrington in 2005
Matthew Carrington, age 21, died after drinking excessive amounts of water while doing calisthenics during a hazing ritual for a Cal State Chico fraternity.
Security in 2006 
Lawrence Livermore National Laboratory, in Livermore, announced plans to install machine guns to deter terrorists. They would fire 4,000 rounds a minute with a range of nearly a mile.
Santos in 2007 
Ivan Santos, age 15, was shot and killed in San Pablo. Police arrested two men and a boy who shot him for dressing like a rival gang member.
Arriola in 2008
Gus Arriola, cartoonist, died in Carmel at age 91. His Gordo cartoon strip, published from 1941 to 1985, was one of the first in the U.S. to celebrate Mexican culture.
Sports in 2012 
The NFL announced plans to give the San Francisco 49ers $200 million for its new $1 billion stadium in Santa Clara.
Parks in 2013 
A 165-foot South Bay Power Plant was demolished in San Diego to make room for a city park.
February 3
Ranchos in 1838
Rancho La Carbonera, a Mexican land grant was deeded. It covered 2,225 acres between the San Lorenzo River and Branciforte Creek in today's Santa Cruz County. The name means "coal mine." 
Overland trail in 1847
People in San Francisco called a meeting to organize a rescue of the Donner Party. The first rescuers included James Reed, whose wife and daughter were trapped in the Sierras.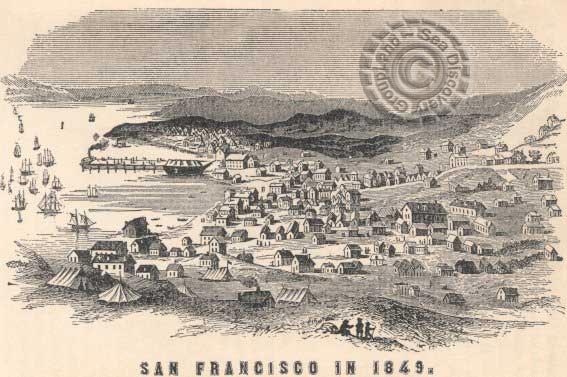 Post offices in 1853
A U.S. post office opened in Woodland, originally called Yolo City. Today it is part of the Sacramento – Arden – Arcade – Roseville metropolitan area.
Newspapers in 1857
The Bee, a Sacramento newspaper, debuted. It has been the the region's leading newspaper for more than 150 years.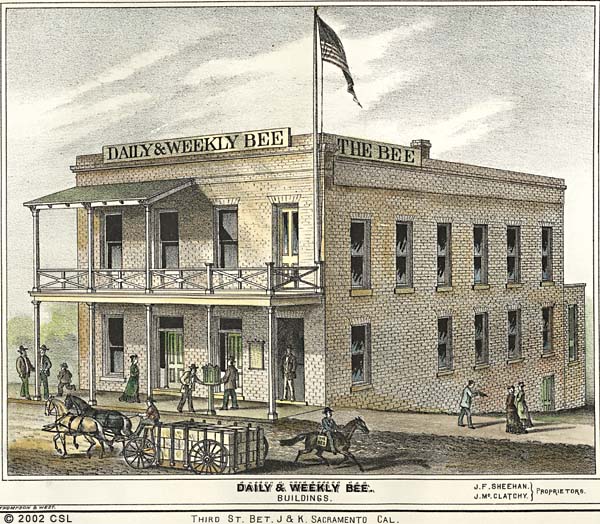 Clubs in 1903 
Edward F. Adams, San Francisco Chronicle editorial writer, founded the San Francisco Commonwealth Club as a forum for discussing disputed questions. For over 100 years, it has hosted conversations with world leaders in politics, science and the humanities.
State symbols in 1911
The bear flag became the California state flag. The original flag was made in Sonoma for the 1846 revolt. It was lead by John Frémont to free Alta California from Mexico before the Mexican American War. 
Transportation in 1918
Twin Peaks Tunnel opened in San Francisco. At 2.27 miles long, it is among the longest streetcar tunnels in the world. 
Movies in 1945 
Walt Disney Productions, in Burbank, released "The Three Caballeros," a Latin American musical adventure combining live-action with animation.
Sports in 1960        
Candlestick Park, the new home of the San Francisco Giants, was officially turned over to the team.
Music in 1968
Country Joe and the Fish, Berkeley-based psychedelic rock band known for musical protests against the Vietnam War, released "I-Feel-Like-I'm-Fixin'-to-Die Rag." 
Science in 1984
John Edmond Buster, at UCLA School Medical Center, performed the first embryo transfer from one woman to another, producing a live birth.
Oppenheimer in 1985        
Frank Oppenheimer, physicist and educator, died in Sausalito at age 73. He worked on the Manhattan Project, was politically targeted by McCarthyism and later began the Exploratorium, an interactive science museum in San Francisco.
Sports in 1987        
The San Diego Yacht Club celebrated the victory of skipper Dennis Conner and the Stars and Stripes over Australia, sweeping the America's Cup series. 
Duncan in 1988        
Robert Duncan, visionary poet, died. He and his partner Jess Collins, co-founded San Francisco's King Ubu Gallery in 1953, which later became a place for Beatnik poetry readings. 
Cassavetes in 1989        
John Cassavetes, actor and director, died in Los Angeles at age 60. His films included "A Woman Under the Influence" (1974), "Gloria" (1980) and "Love Streams" (1984).
Kulp in 1991       
Nancy Kulp, actress, died in Palm Desert at age 70. She played Miss Jane Hathaway in "The Beverly Hillbillies" (1962-1971). 
Meadows in 1996        
Audrey Meadows, actress, died in Los Angeles at the age of 71. She played Alice Kramden on the 1950s television comedy "The Honeymooners".
Environment in 1998        
Heavy rain continued to thrash the state and Northern California rivers flooded over their banks.
Crime in 2003      
Phil Spector, legendary rock-n-roll producer, was arrested in Los Angeles for murder after Lana Clarkson was found dead in his mansion. 
Government in 2006        
PG&E agreed to pay $295 million to settle lawsuits over drinking wells polluted with the toxic chemical chromium.
Liderman in 2008  
Jorge Liderman, age 50, a composer and professor at U.C. Berkeley, was struck and killed by a BART train at the El Cerrito station in a suspected suicide.
Crime in 2012        
Thieves stole 225 bronze vases from Cypress Lawn Memorial Park in Colma. Some 300 more were stolen from another part of the cemetery on February 18. The vases were valued at over $85,000.
Accidents in 2013        
A tour bus crashed into other vehicles on Hwy. 38 in San Bernadino County, killing seven people.