March 3
Government in 1849
San Francisco began to collect taxes to generate municipal funds.
Newspapers in 1851
Daily True Standard in San Francisco published for at least two months before it closed.
Government in 1853
Congress appropriated $150,000 and authorized engineers "to Ascertain the Most Practical and Economical Route for a Railroad From the Mississippi River to the Pacific Ocean." The Transcontinental Railroad was completed on May 10, 1869.
Government in 1855
The U.S. Congress appropriated $30,000 for an experiment using camels as pack animals to cross the desert to California. The experiment ended but the camel barns are still standing in Benicia, in Solano County. 
Government in 1885 
California established the first permanent forest commission in the U.S.
Radio in 1925
KFWB, known as News Talk 980, started broadcasting. It was the third radio station in Los Angeles.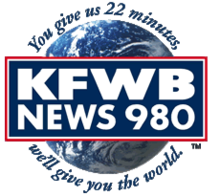 Ambergris in 1934        
Alf Haraldsen reportedly found some 150 pounds of ambergris near Bolinas. The rare material is formed in the intestines of whales and used to make perfume. His find, valued around at $75,000 then, would be worth more than $1,000,000 today. 
Business in 1936        
Standard Oil of California struck oil at Damman No 7, the first commercial oil well in Saudi Arabia,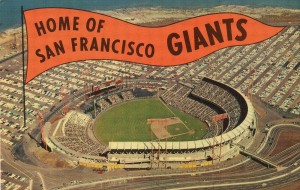 Sports in 1959 
The San Francisco Giants stadium was named Candlestick Park.
Earthquakes in 1959        
An earthquake measured 5.5 on the Richter scale shook the San Francisco Bay Area. 
Labor in 1964        
Terence Hallinan, student activist, was arrested in a protest against racial discrimination in hiring at the Sheraton Palace Hotel. Protests then focused on hiring practices of the Cadillac salesroom on Van Ness. 
Music in 1966 
Buffalo Springfield formed in San Francisco, with Stephen Stills and Neil Young. It lasted only two years but was inducted into the Rock and Roll Hall of Fame (1997).
Ships in 1980        
The submarine Nautilus, the first atomic ship, was decommissioned at the Mare Island Naval Shipyard in Vallejo. She put to sea in  January 1955, set many records and traveled beyond the limits of previous submarines.
Crime in 1981        
Tookie Williams, leader of the Crips, was convicted of killing four people in Los Angeles (1979) and sentenced to death. 
Crime in 1983        
Peter Ivers, a 37-year-old musician, was murdered in his Los Angeles apartment. He was best known as host of New Wave Theatre, a locally broadcast television show.  
Kaye in 1987        
Danny Kaye, actor, singer, dancer, comedian, broadcaster and legendary showman, died in Los Angeles at age 78. He starred in 17 movies, was the first ambassador-at-large of UNICEF and received the French Legion of Honor.
Crime in 1991 
Amateur video captured Los Angeles police officers beating of Rodney King. When King resisted arrest, the police forcefully subdued him. iots broke out in April when  a jury found the officers innocent. Fifty-three people died, including 10 killed by police and military forces.
Japanese American Internment in 1992
Manzanar War Relocation Center was dedicated as a National Historic Site. It was the most famous of 10 camps where some 110,000 Japanese Americans were held during World War II.
Archaeology in 2006        
Archaeologists excavating a housing development site near the Angeles National Forest found a prehistoric milling area estimated at 8,000 years old. Workers removed and cataloged about 100 tools and implements used by the Gabrielino-Tongva tribe. 
Crime in 2012        
Five Orange County men were charged with mortgage fraud. Their businesses promised homeowners secure loan modifications for an up-front fee then kept the fee with no loan modifications.
McQuarrie in 2012        
Ralph McQuarrie, movie conceptual artist, died in Berkeley at age 82. He was best known for work on the original "Star Wars" trilogy (1977-1983), "E.T. the Extra-Terrestrial" (1982), "Cocoon" (1985), for which he won an Academy Award and "Battlestar Galactica" television series (2004-2009).
March 4
Exploration in 1776
Father Pedro Font wrote in his diary about salmon in the Salinas River. He was traveling with De Anza and the first colonists from Mexico to Alta California.
Government in 1804
The Spanish king divided Alta California and Baja California, separating Franciscan missions in the north from Dominican missions in the south.
King in 1864
Reverend Thomas Starr King died in San Francisco at age 39. He spoke passionately to keep California in the Union during the Civil War.
Government in 1881
California passed the first plant quarantine legislation in the U.S. It was to protect local crops from invasive plants and insects.
Races in 1928 
The Trans-America Footrace, nicknamed the Bunion Run, started at Legion Ascot Speedway in Los Angeles. Runners raced 3,423.5 miles to Madison Square Garden in New York City.
Parks in 1940
Kings Canyon National Park, called General Grant National Park when it opened on October 1, 1890, had It's name changed when it grew to 461,901 acres and included the protection of giant sequoias.
March 5
Parks in 1980
Channel Islands National Park opened. It includes five of the eight Channel Islands off the coast from San Pedro to Santa Barbara. It covers 249,354 acres, half of which are under the ocean. 
Computers in 1975 
Homebrew Computer Club met for the first time at a garage in Menlo Park. Several important computer entrepreneurs and hackers met there, including the founders of Apple Inc. They imagined the personal computer revolution.
Science in 1978 
The Landsat 3 launched from Vandenberg AFB. It continued the longest running project to collect satellite images of Earth.
March 6
Inventions in 1877
Susannah Burton, of San Francisco, patented bird cage awnings. "My invention relates to certain improvements in awnings or shelters, such as are employed to protect birds in cages from wind, rain, and particularly from the sun."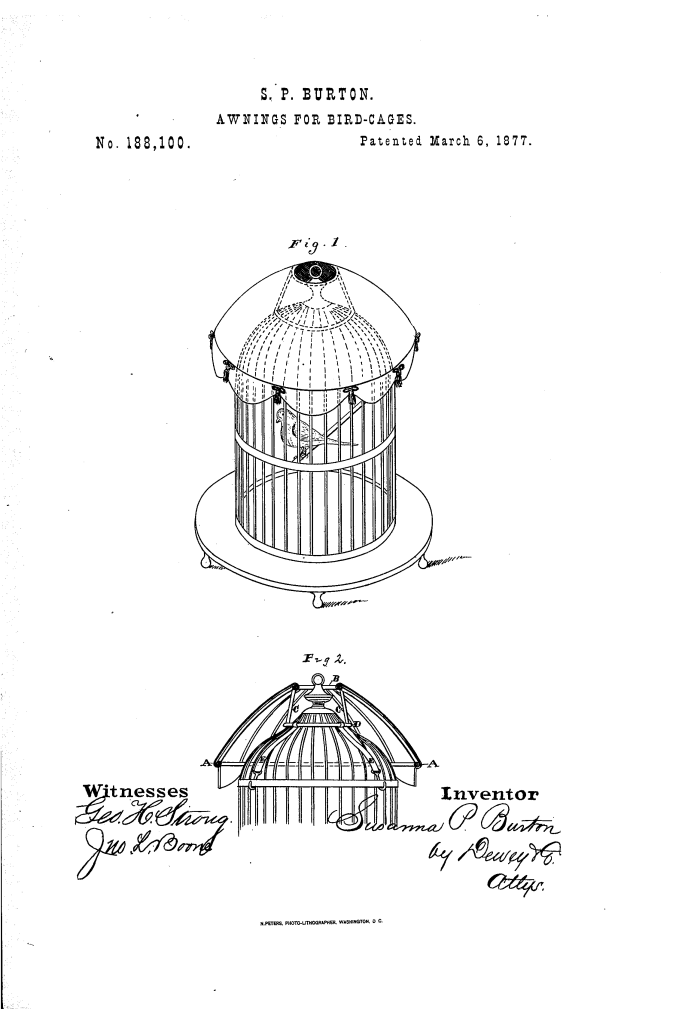 Dance in 1910  
A dance marathon at Puckett's Cotillion Hall in San Francisco ended. Six couples broke the world record by dancing for 14 hours and 41 minutes. 
Movies in 1921 
The National Association of Moving Picture Industry announced they would censor U.S. movies.
Accidents in 1937 
The tanker ship Frank H. Buck, loaded with oil, sank off the coast of San Francisco. It was visible during low tide from between Point Vista and the Palace of the Legion of Honor.
Protests in 1968 
Moctesuma Esparza, Chicano student organizer and later a film producer, lead the first East Los Angeles high school walkout protesting unequal conditions in Los Angeles high schools.
Flight in 1990
Ed Yielding and Joseph Vida set a transcontinental speed record, flying a SR-71 Blackbird from California to Virginia in 64 minutes, averaging 2,124 mph.
Awards in 1997 
The first Webby Awards ceremony was held in San Francisco. It continues to honor excellence on the Internet across Websites, Mobile, Social, Interactive Advertising and Online Film and Video.
Gas prices in 2000 
Gasoline prices in California reached an average $1.63 per gallon.
Business in 2002 
Federal regulators approved the proposed $22 billion merger of Hewlett-Packard Co., headquartered in Palo Alto, and Compaq Computer Corp.
Government in 2006 
A San Francisco judge ordered University of California to pay over $33.8 million to some 40,000 students, who claimed their fees had been improperly raised.
Crime in 2009 
Annette Yeomans, age 51, was booked at the Vista jail and charged with grand theft and embezzlement. The former bookkeeper for Quality Woodworks, Inc. in San Marcos reportedly embezzled $9.9 million, forcing layoffs. Yeomans bought 400 pairs of shoes that she kept in a closet decorated with a crystal chandelier and a plasma television. 
Accidents in 2013
A lion attacked and killed Dianna Hanson, age 24, a sanctuary worker at Project Survival's Cat Haven in Dunlap.
March 7
Exploration in 1844
John Frémont, explorer, reached Sutter's Fort at the end of his second overland expedition. Two years later, he was involved with the Bear Flag Revolt to free California from Mexico (1846). 
Overland Trail in 1847
A blizzard struck the Sierra for three days, trapping the rescuers and Donner Party survivors. They huddled around a fire and struggled to keep it burning for two days. After the storm, most of the survivors were too weak to move. James Reed and his companions took three children and left what became called "Starved Camp," where three other people died and were cannibalized.
Newspapers in 1864
Le National, the first French newspaper in California, debuted and continued until 1870.
Alameda in 1872
Alameda incorporated on a 2,200 acre peninsula adjacent to Oakland. 
Prisons in 1938 
San Quentin prison received a gas chamber to replace its gallows for executions.
Music in 1967 
The Doors, from Los Angeles, made their second trip to San Francisco. They played at the Matrix and Avalon clubs. 
Crime in 1981 
An 18-year-old was stabbed to death at Disneyland, the first homicide at the park.
Prisons in 1994 
Timothy Scot, a San Quentin prison officer, shot and killed Mark Adams, an inmate. A federal jury awarded the Adams family $2.3 million based on wrongful death (1998).
Winfield in 2004 
Paul Winfield, actor known for versatility in stage, film and television roles, died in Los Angeles at age 62. He was best known for playing a Louisiana sharecropper during the Great Depression in "Sounder" (1972).
Gale in 2008 
David Gale, mathematician, died in Berkeley at age 87. He was affiliated with the mathematics, economics, and industrial engineering and operations research departments at U.C. Berkeley.
Crime in 2009 
San Francisco Bay Area police completed a two-day sweep, arresting at least 42 people, all alleged member of the so-called "Taliban" gang.
Business in 2012 
Apple, Inc., headquartered in Cupertino, unveiled a third-generation iPad. The most basic model, with wireless connectivity only, went on sale in the U.S. at $499, the same price as the previous models.
March 8
Inventions in 1870
Elizabeth A. Burns, of Meadow Lake, patented an Improvement to roasting ores.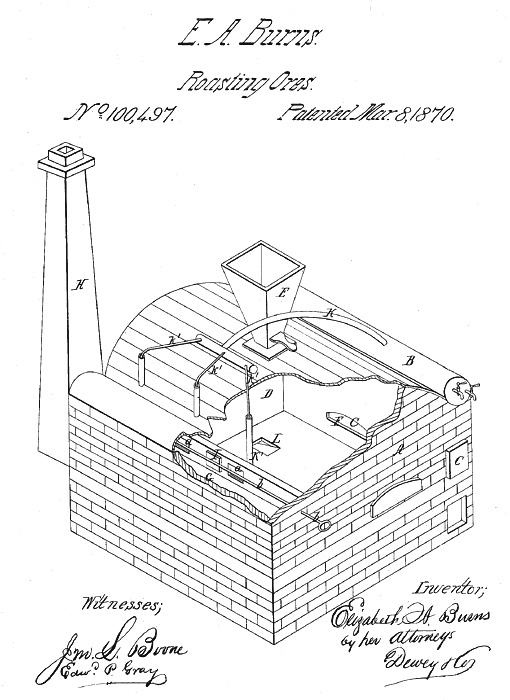 Sports in 1935        
A boxing match between Joe Lewis and Red Barry ended when Barry fell to the mat at San Francisco's Dreamland before some 8,000 fans. Lewis won around $3,650 – Barry got about $1,200.
Space shuttle in 1979 
Shuttle Columbia (OV-102) was transported 38 miles overland from Palmdale to Dryden Flight Research Facility at Edwards Air Force Base.
Labor in 1979        
Cesar Chavez led some 5,000 striking farm workers on a march through the streets of Salinas. 
Crime in 1987 
FBI agents captured Claude Dallas, Jr. The self-styled mountain man killed two game wardens in Idaho. He escaped from prison and eluded capture for nearly a year before being caught in southern California.
Accidents in 1988        
At least three people made off with more than $500,000 after money spilled from a Loomis Armored truck in San Francisco. Louis Lopez of Daly City picked up two bundles containing $40,100 and returned them to the Loomis offices.
Business in 1999        
Intel, in Santa Clara, settled an antitrust suit charge of abusing monopoly power in the computer chip industry.
Crime in 2000        
Fifty-five Oscar statues were stolen from a loading dock in Los Angeles. They were found in a dumpster. Police arrested two men who worked for the trucking company.
Pastorelli  in 2004 
Robert Pastorelli, actor, died in Hollywood Hills at age 49. His last role was with John Travolta in "Be Cool," released in 2005. 
Flamm in 2010 
Jerry Flamm, newspaper reporter, died at Stanford at age 93. His books included Good Life in Hard Times (1977), a look at the Bay Area during the Great Depression, and Hometown San Francisco (1994).
Environment in 2011 
Millions of sardines floated dead in the King Harbor area of Redondo Beach. Experts said a storm chased them toward shore where they died due to a lack of oxygen. They also tested positive for domoic acid, a neurotoxin found in the stomach of fish that fed on plankton during toxic algae blooms.
Crime in 2012 
Donald Atkinson, a retired El Dorado County sheriff's deputy, was arrested for embezzling over $300,000 from his union (2005-2011). He had been president of the El Dorado County Sheriff's Association. Atkinson was sentenced to 5 years in prison.
March 9
Gold in 1842
Francisco Lopez found gold at Placerita Canyon, north of the Pueblo de Los Angeles. He woke from a nap under an oak tree then crossed a creek to a grove of trees. He stuck his knife into the ground to dig wild onions and clinging to the onions were chunks of gold.
Mexican American War in 1846
John Frémont lowered the U.S. flag over Gavilan Peak and retreated to Sutter's Fort after angering Mexican officials who suspected him of wanting to free California from Mexican rule.
Gold Rush in 1848
Isaac Humphrey introduced the first machine to the Gold Rush. But his rocker or cradle was too crude to catch the fine gold particles called gold dust.
Newspapers in 1867
The Red Bluff Sentinel debuted and continued publishing to 1882.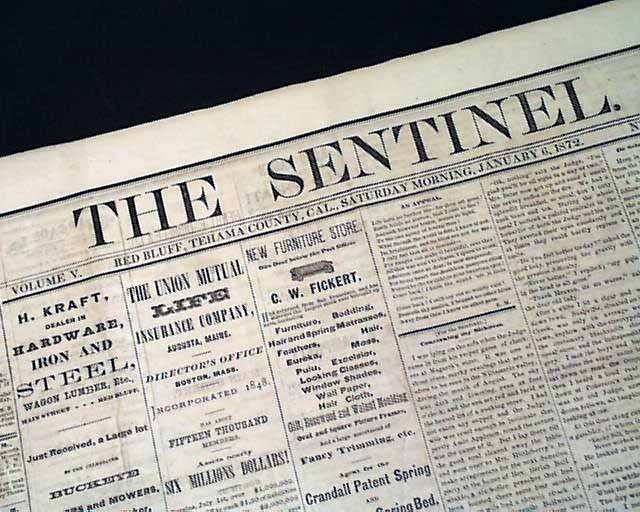 Toys in 1959 
Barbie, made by Mattel in El Segundo, debuted at the American International Toy Fair in New York. Today she is one of the most famous dolls in history. 
Protests in 1964 
Five Lakota Sioux men occupied Alcatraz Island in a peaceful political protest. They demanded the island become a Native American cultural center and university.
Burns in 1996 
George Burns, legendary comedian, died in Beverly Hills weeks after turning 100. His career spanned vaudeville, film, radio and television.
Government in 2006 
Government authorities ordered Michael Jackson to shut down his Neverland Ranch, in Santa Barbara County, and fined the pop star $169,000 for failing to pay his employees or maintain proper insurance.
Business in 2006 
Google, in Mountain View, announced purchase of Upstartle LLC, whose Writely.com service allowed users to create, edit and share documents online.
Accidents in 2008 
Kristy Gough, age 30, and Mat Peterson, age 29, racing cyclists, were killed during a training ride in Cupertino when a deputy sheriff veered into the opposite lane of traffic. Officer James Council, age 27, said he fell asleep at the wheel.
Crime in 2010 
San Francisco officials shut down drug testing at the police crime lab. Deborah Madden, age 60, a technician, was accused of stealing cocaine she was to analyze. 
March 10
Exploration in 1776 
Juan Bautista de Anza and his expedition of Mexican colonists reached Monterey Bay to start a civilian outpost. They traveled for months, covering more than 1,000 miles overland. 
San Francisco in 1847
Stephen Kearny authorized the sale of 444 lots on the east side of San Francisco, some on the beach and others under water.
San Francisco in 1847
Jasper O'Farrell surveyed San Francisco which covered about one and one-half square miles. The city's population was 459.
Earthquakes in 1933
The Long Beach Earthquake caused some $50 million in property damage and killed 120 people. More than 230 school buildings were destroyed or made unsafe, which lead to laws making school buildings earthquake safe.
Music in 1940
Dean Torrence, musician, was born in Los Angeles. He became famous as part of Jan and Dean, an early surf music band in the late 1950s and mid '60s.

Water in 1962
A water desalination plant opened at San Diego. Kelp and sea grass clogged the intake, causing operational challenges.
Sports in 1963 
The Syracuse Nationals beat the San Francisco Warriors despite the 70 points scored by Wilt Chamberlain.
Bridges in 1998 
Lloyd Bridges, actor, died in Westwood at age 85. He played in over 100 movies and starred in the television series "Sea Hunt" (1957-1961).
Religion in 2007 
Some 22,000 evangelical teenagers attended the Battle Cry rally in San Francisco. 
 Jeni in 2007 
Richard Jeni, popular standup comedian, regular guest on the "Tonight Show" and movie actor, died in West Hollywood at age 49.
Haim in 2010 
Corey Haim died in Los Angeles at age 39. He was a teen heartthrob for his roles in "Lucas" (1986) and "The Lost Boys" (1987).
Art in 2012 
A 340 ton granite boulder arrived at the Los Angeles County Museum of Art under the direction of Michael Heizer, earth artist.