November 23
Exploration in 1542
Juan Rodriguez Cabrillo, returning to Mexico after exploring the coast, anchored at San Miguel La Posesion (called Catalina Island today). He planned to stay for the winter and repair his ships. But Tongva warriors attacked and while trying to rescue some of his men, Cabrillo stumbled and splintered his shin. The injury became infected. He developed gangrene and died on January 3, 1543.
Exploration in 1602
Sebastián Vizcaíno, explorer of New Spain, the Philippines, the California coast and Japan, changed Cabrillo's name of the island, Victoria, to Santa Catalina in honor of one of his ships.
Exploration in 1819
Padre Joaquin Pasqual Nuez, who was traveling with Gabriel Moraga's expedition to punish Amajabas Indians for killing Christian natives, named the mountain Nuestra Senora del Pilar de Cucamonga. 
Overland Journeys in 1846
Patrick Breen, traveling with the Donner Party, wrote in his diary: "Same weather; wind W. The expedition across the mountains returned after an unsuccessful attempt."
Crime in 1882
Charles Bowles, English born gentleman bandit known as Black Bart, left poems at the scene of his crimes. He held up Wells Fargo stage coaches 28 times. His 25th was five miles from Cloverdale in Sonoma County.
Inventions in 1889
The first jukebox began playing at the Palais Royale Saloon in San Francisco. Built by the Pacific Phonograph Company, it had tubes attached to an Edison phonograph inside an oak cabinet. Four coin-activated tubes operated individually, so four people could listen to the same song at the same time.
Flight in 1929
Universal Aviation Corporation began transcontinental service from New York to Los Angeles with an overnight stop in Kansas City. There passengers transferred to a Western Air Express flight the next day for the rest of the journey. The trip cost nearly $300 and took approximately 36 hours, including the Kansas City stop, to complete.
Sports in 1960
Frank Howard, Los Angeles Dodgers outfielder, was voted National League Rookie of Year.
Sports in 1962
Maury Wills, Los Angeles Dodgers shortstop, was named National League Most Valuable Player.
Sports in 1991
The Sacramento Kings ended the NBA's longest losing streak of 43 games on the road.
Sports in 2005
The 2nd Annual Nike Women's Marathon in San Francisco, with some 15,000 runners, raised $14 million to benefit the Leukemia and Lymphoma Society. Today it is the largest women's marathon in the world.

San Francisco in 2008       
Brian Goggin unveiled his art installation, "Language of the Birds," in San Francisco's North Beach. The $120,000 effort involved hundreds of people.
Business in 2010     
A U.S. federal jury in Oakland decided that SAP AG should pay Oracle Corp, in Redwood City, $1.3 billion for copyright infringement. In 2011 A U.S. District Judge called the award excessive and reduced it to $272 million.
November 24
Overland Journeys 1846
Patrick Breen, traveling with the Donner Party, wrote in his diary: "Fine in the morning. Towards evening, Cloudy & windy. Wind W. Looks like snow. Freezing hard."
Post Offices in 1908
A U.S. post office opened in Las Plumas. It's in the Sierra foothills gold country, near the Feather River, close to where Dame Shirley wrote The Shirley Letters (1851-52). Las Plumas flooded when Lake Oroville, a reservoir, was created in 1967.
Prisons in 1927        
National Guard troops battled 1,200 prisoners at Folsom State Prison following a Thanksgiving Day break out. Ten convicts and two guards died.
Flight in 1930
Ruth Rowland Nichols set a women's transcontinental speed record flying from New York to California in a Lockheed-Vega. She beat Charles Lindbergh's time. A friend of Amelia Earhart, Nichols held world records for speed, altitude and distance for a female pilot.

Literature in 1947
John Steinbeck's novel, The Pearl, was published. Born in Salinas, Steinbeck wrote twenty-seven books, several of which take place in California. 
Government in 1947 
The Un-American Activities Committee found 10 California actors and directors in contempt because they refused to reveal whether they were Communists. They became known as the "Hollywood Ten."
Business in 1949       
Alexander and Justine Cushing opened the Squaw Valley Development Company. Their Lake Tahoe area ski resort began with a double chairlift and two rope tows.
Protests in 1964 
The U.C. Berkeley Academic Senate defeated a motion supporting the Free Speech Movement on campus. Students insisted the administration lift the ban on political activities on campus and recognize their right to free speech and academic freedom.
Fires in 2007
A fast-moving wildfire destroyed 53 homes and spread through seven square miles in the hills above Malibu. Five men were charged with starting the fire which caused over $100 million in losses.
Government in 2010       
Kamala Harris became the first woman, first African American and first Indian American in California to be elected as the state attorney general.
November 25
Exploration in 1602 
Sebastián Vizcaíno, explorer of New Spain, the Philippines, the Baja California peninsula, California coast and Japan, named San Clemente Island. He was searching for safe ports for Spanish galleons returning from the Philippines.
Overland Journeys in 1846
Patrick Breen, traveling with the Donner Party, wrote in his diary: "Wind about W.N.W. Cloudy. Looks like the eve of a snow storm. Our mountaineers intend trying to cross the Mountain tomorrow if [the weather is] fair. Froze hard last night."
DiMaggio in 1914       
Joe DiMaggio, baseball star, was born in Martinez. He is best known as a Yankee slugger and for marrying Marilyn Monroe.
Post offices in 1929
The Fallsville post office opened, not far from Fawnskin. The San Bernardino mountain community named for Valley of the Falls is popular with bicyclists.
Movies in 1940
Woody Woodpecker first appeared in Knock Knock. That was the first time Woody's trademark laugh, voiced by Mel Blanc, was heard.
Hollywood in 1947 
Movie studio executives blacklisted the "Hollywood Ten." The actors and directors who they would not hire were jailed because they refused to cooperate with the House Un-American Activities Committee.
Music in 1976
The Band played a farewell concert, "The Last Waltz," at Winterland Ballroom in San Francisco. They were joined on stage by Bob Dylan, Neil Young, Ringo Starr, Dr. John, Joni Mitchell, Muddy Waters, Ronnie Wood, Bobby Charles, The Staple Singers and Eric Clapton.
Sports in 1986
Jose Canseco, Oakland A's, won the American League Rookie of Year award.
Disneyland in 1996
The Disneyland "Main Street Electrical Parade" ended after 24 years. The replacement show, "Light Magic," failed. The "Main Street Electrical Parade" returned in 1999 for Walt Disney World's Millennium Celebration and lasted until April 1, 2001. "SpectroMagic" started the next day.
Wilson in 1998       
Flip Wilson, comedian and actor, died in Malibu at age 64. He is best known for the "Flip Wilson Show" (1970-1974).
Crime in 2010   
U.S. authorities found a tunnel used to smuggle drugs between Mexico and San Diego. It was the second tunnel found in the region in less than a month. Investigators seized some 20 tons of marijuana. 
Business in 2010      
Del Monte, in San Francisco, agreed to be acquired by a group led by KKR & Co. in a $4 billion deal.
Crime in 2011        
A shopper in Los Angeles pepper-sprayed other Black Friday bargain hunters. Robbers in northern California shot at customers to steal their purchases, marring the start of the U.S. holiday shopping season.
November 26
Ranchos in 1839 
Rancho Los Medanos, a 8,859-acre Spanish land grant, was deeded. Its name means "sand dunes." Today it is home of suburban Contra Costa County communities, across the bay from San Francisco.
Overland Journeys in 1846
Patrick Breen, traveling with the Donner Party, wrote in his diary: "Began to snow yesterday in the evening. Now rains or sleet. The mountaineers don't start to day."
Sports in 1868
The first baseball game played in an enclosed field in San Francisco was at The Recreation Grounds, at 25th & Folsom.

Crime in 1911        
John Edwards, known as "The King of the Opium Ring," was arrested near his San Francisco home. Police found more morphine, cocaine and opium than ever found in the possession of one man.
Government in 1913    
San Francisco Chief of Police White issued an order stopping women from visiting local pavilions during prizefights.
Schulz in 1922
Charles Schulz, creator of the Peanuts comic strip, was born. It is one of the most popular comics in history.
Crime in 1933     
A mob dragged John Holmes and Thomas Thurmond out of the Santa Clara County jail and hung them at St. James Park. Holmes and Thurmond were arrested for kidnapping and murdering Brooke Hart, young heir to a San Jose department store fortune. 
Sports in 1965
Jim Lefebvre, Los Angeles Dodgers second baseman, was voted National League Rookie of Year.
November 27
Exploration in 1826
Jedediah Smith reached Mission San Gabriel. While forging trails to California and Oregon, he survived three massacres and a bear mauling. When Smith reached San Diego, his expedition was the first across the southwest, crossing the Mohave Desert and the San Bernardino Mountains from Utah.
Overland Journeys in 1846
Patrick Breen, travelling with the Donner Party, wrote in his diary: "Continues to snow. The ground not covered. Wind W. Dull prospect for crossing the mountains."
Sports in 1924
A record crowd, some 57,000 people, watched a high school football game between Los Angeles High School and Polytechnic High School. They tied, 7-7.
Government in 1941        
Jefferson declared itself an independent state in "patriotic rebellion against the States of California and Oregon" and planned to "secede every Thursday until further notice." The rebellion was short-lived but long-remembered.
Crime in 1978 
Dan White, former San Francisco city supervisor, shot and killed mayor George Moscone and openly gay city supervisor Harvey Milk. Diane Feinstein became acting mayor, then was elected by the Board of Supervisors to complete Moscone's term.
Government in 1996      
A federal judge blocked enforcement of a California initiative to dismantle affirmative action, saying civil rights groups had a "strong probability" of proving it unconstitutional.
Accidents in 2005     
A Greyhound bus overturned on U.S. Highway 101 near Santa Maria when the driver feel asleep. Two people died and dozens injured.
Crime in 2006      
Two men were arrested for stealing almonds and walnuts in the Central Valley. About $400,000 of stolen nuts were recovered, part of an estimated $2 million stolen over the past year.
Business in 2007   
Google, in Mountain View, announced plans to develop renewable energy as part of a plan to clean the environment and reduce the company's own power bill.
Business in 2007     
Wells Fargo & Co., in San Francisco, announced plans to take a $1.4 billion pretax charge tied to increased losses on home equity loans.
Movies in 2013
Walt Disney Animation Studios released "Frozen." The highest-grossing animated film of all time stars Idina Menzel and Kristen Bell.
November 28
Overland Journeys in 1846
Patrick Breen, traveling with the Donner Party, wrote in his diary: "Snowing fast now. About 10 o'clock, snow 8 or 10 in deep. Soft wet snow. Weather not cold. Wind W."
Gold Rush in 1848
U.S.S. Lexington sailed from San Francisco with $500,000 in gold for processing into coins at the U.S. Mint.
Business in 1866
"Biddy" Mason bought her first piece of Los Angeles real estate. Born a slave in Georgia, she died a church-founding, real estate developer and philanthropist, lovingly known as "Mother" Mason.

Sports in 1969
Ted Sizemore, Los Angeles Dodgers, won the National League Rookie of Year award.
Sports in 1972
The Los Angeles Dodgers traded Frank Robinson to the California Angels.
Music in 1976        
Elvis Presley performed at the Cow Palace in Daly City. There were several stampedes toward the stage mainly by female fans.
Russell in 1976      
Rosalind Russell, film and stage actress, died in Beverly Hills at age 69. She is best known for "His Girl Friday" (1940), "Auntie Mame" (1958) and "Gypsy" (1962).
Sports in 1979
Rick Sutcliffe, Los Angeles Dodgers pitcher, won the National League Rookie of Year award.
Sports in 1989
Rickey Henderson signed a record $3,000,000/year contract with the Oakland A's.
Crime in 2005  
"Duke" Cunningham, Republican U.S. congressman from San Diego, resigned after pleading guilty to taking $2.4 million in bribes from a military contractor.
Crime in 2011       
San Francisco City College officials found viruses on their computers traced to criminal networks in Russia, China and other countries.
Rodriguez in 2012     
Spain Rodriguez, Zap Comix artist and influential cartoonist, died in San Francisco at age 72. He was best known for creating the character Trashman.
November 29
San Jose in 1777
El Pueblo de San José de Guadalupe, known as San Jose, became the first civilian town in Spanish California. Today it is the third largest city in the state.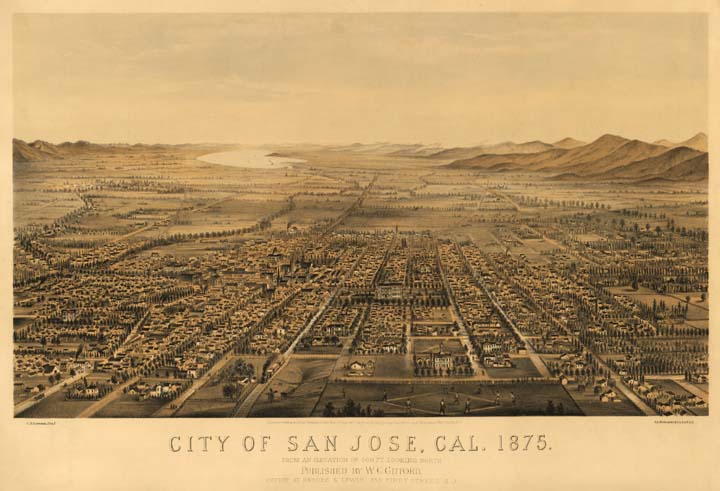 Overland Journeys in 1846
Patrick Breen, travelling with the Donner Party, wrote in his diary: "Still snowing. Now about 3 ft deep. Wind W. Killed my last oxen today. Will skin them tomorrow. Gave another yoke to Fosters. Hard to get wood."
War in 1872 
The Modoc War began with the Battle of Lost River. The skirmish along the California-Oregon border happened when the U.S. Army 1st Cavalry Regiment tried to force a band of Modocs to return to the Klamath Reservation. In the end, Captain Jack of the Modoc and 53 warriors held off over 1,000 U.S. soldiers for 7 months.
Santa Monica in 1886
Residents of Santa Monica, a beachfront community west of Los Angeles, voted to incorporate. Today it is home to a mixture of Hollywood celebrities, surfers, professionals and students.

Post Offices in 1901
The U.S. post office opened in Coachella. This town east of Palm Springs, near the Salton Sea, was one of the state's fastest growing cities in the late 20th century. Today it is home to a yearly music festival.
Fires in 1915
Fire destroyed most of the buildings in Avalon on Santa Catalina Island. The new resort lost six hotels and several clubs.
Flight in 1935   
The China Clipper landed in Manila Bay in the Philippines after stops in Hawaii, Midway Island, Wake Island and Guam. Pan-American Airways first trans-Pacific flight lifted-off from San Francisco Bay on November 22, 1935.

Ships in 1943 
U.S. aircraft carrier Hornet launched in Newport News, Virginia. She saw action in World War II, Korean and Vietnam Wars. In 1998 she opened to the public as the U.S.S. Hornet Museum in Alameda.
Education in 1952     
The American Academy of Asian Studies opened in San Francisco. It was the first accredited U.S. graduate school devoted exclusively to the study of Asian lands and people.
Flight in 1953
American Airlines began its first non-stop commercial air service from New York to Los Angeles flying a Douglas DC-7.

Sports in 1966
In the first NBA game at the Oakland Coliseum Arena, the San Francisco Warriors beat the Chicago Bulls, 108-101.
Business in 1972
Atari released Pong, the first commercially successful video game. It was first played at Andy Capp's Tavern in Sunnyvale.
Wood in 1981
Natalie Wood, actress, drowned off Santa Catalina. She is best known for "Rebel Without a Cause" (1955) and "West Side Story" (1961).
Sports in 1987
Joe Montana, San Francisco 49ers, completed 22 consecutive passes, a NFL record. 
Harrison in 2001        
George Harrison, lead guitarist for the Beatles, died in Beverly Hills at age 58. 
Music in 2007        
Yoshi's, the jazz club that began in a North Berkeley sushi bar (1972), opened a club in San Francisco.
Business in 2009     
San Francisco Mayor Gavin Newsom led a Bay Area delegation to Bangalore, India to sign business deals as part of the San Francisco-Bangalore Sister City Initiative.
Education in 2010   
Kaiser Permanente of Oakland, a health care business, announced $10.5 million in donations including $7.5 million over 3 years for Oakland school programs.
Goldman in 2010   
Richard Goldman, philanthropist and founder of the Goldman Environmental Prize (1989), died in San Francisco at age 90.
Crime in 2011
Authorities in San Diego uncovered a 600-yard cross border tunnel and seized 32 tons of marijuana. Daniel Navarro was sentenced in San Diego to almost 16 years in prison for his role.
November 30
Business in 1960   
The Fontana spaghetti factory in San Francisco was demolished to be replaced by twin towers, each with 130 apartments. The old warehouse, built between 1868 and 1870, became a spaghetti factory around 1900.
Cousins in 1990      
Norman Cousins, professor, journalist and tireless advocate for world peace, died in Los Angeles at age 75.
Accidents in 1991 
Seventeen people died and 150 were injured when some 100 cars and trucks crashed during a blinding dust storm on Interstate 5 near Fresno. It was the deadliest highway pileup in California history.
Sports in 1991 
Marshall Faulk, San Diego State running back, was the first freshman to capture national rushing and scoring titles. He carried the ball 37 times, gained 386 yards and scored seven touchdowns in a single game.
Crime in 1993
Authorities arrested Richard Allen Davis, who confessed to abducting and killing 12-year-old Polly Klaas of Petaluma. He was sentenced to death and sent to San Quentin State Prison.
Hedges in 1997        
Michael Hedges, composer, acoustic guitarist and singer-songwriter, died in an auto accident in Mendocino County at age 43. His albums "Breakfast in the Field" (1983) and "The Road to Return" (1994) helped establish the Wyndham Hill record label.
Business in 2003      
Roy Disney, Walt Disney's brother and company vice chairman, stepped down from the board of directors.
Sports in 2005 
San Jose Sharks acquired Joe Thornton in a trade with the Boston Bruins.
Business in 2005
San Francisco mayor Gavin Newsom signed an agreement with Shanghai mayor Han Zheng, the eighth since the cities became sister cities (1980).
Cities in 2011       
Phil Kamlarz, Berkeley city manager, retired after working there for 36 years. He was paid some $150,000 for unused sick and vacation time and expected to be paid $249,420 yearly during retirement due to bonuses for his many years of working for the city.