London in 1876
Jack London was born in San Francisco. He grew up around the Bay, hung out at the public library and had many adventures before finishing high school. His Call of the Wild (1903) is among the great American novels.
Flight in 1910
Louis Paulhan made a record flight, reaching an altitude of 4,600 feet over Los Angeles in his Henry Farman biplane.
Parks in 1969
The San Jacinto Wildlife Area opened near Palm Springs. Its mountains rise to some 10,000-foot. John Muir climbed the summit in 1896 and called the view "one of the most sublime spectacles to be found anywhere on earth!"
Business in 2001 
Downtown Disney, a "shoppertainment center," opened as part of the Disneyland Resort in Anaheim.
January 13
Mexican American War in 1847
The Treaty of Cahuenga, signed at a ranch house at Cahuenga Pass, ended the Mexican–American War in California. General Andres Pico, surrendered two cannon, including the "Old Woman's Gun" that won the battle of Dominguez Ranch. 
Gold Rush in 1849
The Edward Everett, sailed from Boston with 152 gold seekers going to San Francisco. Passengers ate cheese, pot pies, apple sauce and plum pudding. There were weekly talks on scientific subjects. Two ministers took turns preaching on Sundays and musicians played on special occasions. They arrived on July 6, 1849. 
Newspapers in 1877
The Pioneer newspaper in San Jose debuted and continued publishing through 1898.
Post Offices in 1914
A U.S. post office opened at Palm City, originally part of Rancho La Punta but today part of San Diego. John Montgomery designed and tested manned gliders, among the first of their kind, at nearby Ortay Mesa in the 1880s.

Accidents in 1916
The U.S.S. Milwaukee sailed to rescue a U.S. submarine that ran aground near Humboldt Bay. It rescued 421 sailors and 17 officers but stranded in the breakers while re-floating the submarine. The submarine was saved but the rescue ship was lost.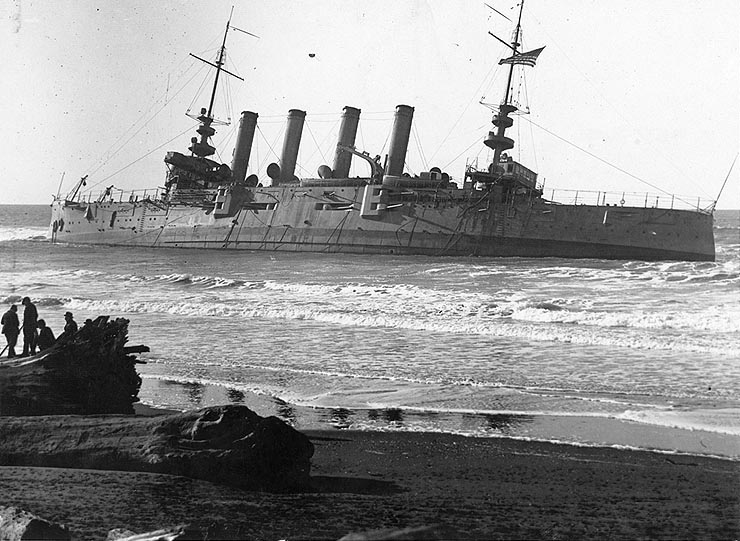 Business in 1957 
Wham-O Company, in Emeryville, produced the first Frisbee. Their other toys  include the Hula Hoop, Slip 'N Slide, Super Ball, Silly String and Hacky Sack.
Sports in 1962 
Wilt Chamberlain, San Francisco Warriors center, scored a then NBA-record 73 points against the Chicago Bulls. 
Music in 1968 
Johnny Cash performed two shows live for inmates at Folsom State Prison. The album, At Folsom Prison, was his 27th. 
Sports in 1993  
The Dallas Cowboys beat the Buffalo Bills in Super Bowl XXVII, played in Pasadena.
January 14
Exploration in 1793
Captain George Vancouver sailed from Monterey Bay for Hawaii. He was on a 4-year voyage to explore, map, collect plants and animals and promote British interests around the world. Vancouver spent the winter of 1792 in Monterey, the Spanish colonial capital of Alta California.
Literature in 1835
Richard Henry Dana reached Santa Barbara. He left college and sailed for Alta California to trade in cattle hides and tallow. In Two Years Before the Mast (1840), Dana wrote about the wedding of an American to the daughter of a California ranchero.
Japanese American internment in 1942
President Franklin Roosevelt issued Proclamation No. 2537. His response to Japan's attack on Pearl Harbor lead to more than 110,000 people of Japanese heritage who lived on the Pacific coast being forced from their homes and locked in internment camps through December 18, 1944.
Environment in 1952 
A snowstorm in the Sierra Nevada killed 26 people. Roughly 13 feet of snow fell from January 10 to 17. Some 65 feet of snow on fell on Donner Summit that winter.
Hippies in 1967 
The Human Be-In in San Francisco's Golden Gate Park marked the beginning of the Summer of Love. Some 20,000 people attended.
Sports in 1968 
Green Bay Packers beat the Oakland Raiders, 33-14 in Super Bowl II, played in Miami, Florida. 
Music in 1978 
Sex Pistols' played their final concert at Winterland in San Francisco. They fueled the English punk rock movement.
January 15
Alta California in 1816
The first U.S. citizen landed in Alta California. Thomas Doak was aboard an American schooner that anchored near Santa Barbara and began trading with a local rancho, which was against Spanish law. Doak deserted or was caught, stayed in Alta California, was baptized Felípe Santiago, married into a rancho family and decorated the Mission San Juan Bautista chapel.
Anaheim in 1858
Anaheim was named. It was originally a Mormon agricultural colony founded by Germans living in San Francisco; the home of Disneyland since 1955 and the Los Angeles Angels since 1966.
Mason in 1891
Biddy Mason died a wealthy woman in Los Angeles at age 72. She  was brought to California as a slave but fought for freedom in court. Auntie Mason, as she was known, was one of the first African American land owners in L.A., founded a traveler's aid center, an elementary school for black children and the city's first black church. Biddy Mason Day is celebrated on November 16.
Crime in 1947 
Elizabeth Short, known as the Black Dahlia, was found murdered and dismembered in Los Angeles' Leimert Park.
Sports in 1967  
The Green Bay Packers defeated the Kansas City Chiefs, 35–10, in Super Bowl I, played in Los Angeles. 
Amusement Parks in 1975 
Space Mountain, a space-themed indoor roller coaster, opened at Disneyland.
Sports in 1995 
The San Diego Chargers beat the Pittsburgh Steelers, 17-13, to win the AFC championship.
Sports in 1995 
The San Francisco 49ers beat the Dallas Cowboys, 38 – 28, to win the NFC championship.
January 16
Exploration in 1844
John Frémont and Kit Carson followed the Truckee River up into the Sierras. They were the first Americans to see Lake Tahoe. 
Government in 1847
John Frémont was appointed military governor of California after the Treaty of Cahuenga ended the Mexican American War. 
Theater in 1850
John Atwater presented "The Wife" at Washington Hall, San Francisco's first theater. The San Francisco Call reported, "The only thing worthy of note on that occasion was the high price charged for admission, the large attendance and the poor performance."
Theaters in 1857
A concert hall opened at the corner Clay and Sansome streets in San Francisco.
Newspapers in 1857
The Weekly Gleaner, an Anglo-Jewish weekly newspaper, debuted in San Francisco. The de Young brothers, who began the Daily Dramatic Chronicle were its typesetters. Today the Weekly Gleaner is the San Francisco Bulletin.
Newspapers in 1865
The Daily Dramatic Chronicle, published by teenage brothers Charles and Michael H. de Young, debuted in San Francisco. Today the Chronicle is the largest newspaper in the Bay Area.

Accidents in 1887  
San Francisco's Cliff House was severely damaged when 42 tons of black powder exploded aboard the schooner, Parallel, that ran aground nearby. The blast was heard as far as 100 miles away.

Parks in 1908
President Theodore Roosevelt created Pinnacles National Monument near Soledad. It protects some 13 species of bats, prairie falcons and California Condors and is popular for rock climbing.
Television in 1949  
KNBH-TV in Los Angeles began broadcasting. It became KRCA in 1954, then KNBC in 1962. KNBC's studios and offices are located in the Universal Studios Hollywood backlot. 
Movies in 1959
Dalton Trumbo, screenwriter and novelist, blacklisted for political activities during the McCarthy Era, revealed that he won an Academy Award for Best Motion Picture Story (1956) written under the false name "Robert Rich."
January 17
Overland Trail in 1847
Patrick Breen, who traveled with the Donner Party, wrote in his diary: "Eliza [Williams] came here this morning. Sent her back again to Graves. Lanthrom [Landrum Murphy] crazy last night, so Bill [Murphy] says. Keyburg sent Bill to get hides off his shanty & carry them home this morning. Provisions scarce. Hides are the only article we depend on; we have a little meat yet. May God send us help." The Forlorn Hope snowshoers trying to escape through a mountain pass, reached another Indian village around this day. Foster and the five women are too weak to continue."
Gold Rush in 1849
S.S. California, a side-wheeler steamship, reached Panama. It sailed from New York for San Francisco with mail, freight and mostly empty berths. When it reached Peru, people had heard about the gold discovery and 100 men bought tickets to San Francisco. When it reached Panama, some 1,000 men wanted passage and riots broke out.
Modoc War in 1873
U.S. soldiers advanced on the Modoc stronghold at the Lava Beds. Captain Jack's band of some 150 people included 52 warriors. In the battle, warriors hidden in the fog fired on the soldiers. By the end of the day 35 soldiers were killed and 25 wounded. The Modoc suffered no casualties.
Crime in 1969 
Black Panther Party members Bunchy Carter and John Huggins were shot and killed during a meeting to select a director of the planned black studies program on the UCLA campus.
Crime in 1989    
Patrick Purdy, age 27, shot and killed five children at Cleveland Elementary School in Stockton then killed himself. He had been a student there.
Earthquakes in 1994  
A 6.7 magnitude earthquake struck Northridge, in the San Fernando region of Los Angeles. Fifty-seven people were killed, some 5,000 injured. Property damage was more than $20 billion, making it one of the costliest natural disasters in U.S. history.
Government in 2001  
When rolling blackouts cut off electricity to hundreds of thousands of California residents, Governor Grey Davis declared a state of emergency and ordered the Department  of Water Resources to buy and sell power to eliminate the crises. 
Crenna in 2003   
Richard Crenna, radio, film and television actor, died in Los Angeles at age 75. He is best known for his role as Rambo's ex-commanding officer in the first three "Rambo" films.
Doss in 2003    
Margo Patterson Doss, San Francisco Chronicle columnist, died in Bolinas at age 83. She  wrote a column "San Francisco at Your Feet" from 1961 to 1991. 
Stark in 2004   
Ray Stark, Hollywood producer, died at his Los Olivos ranch at age 88. His films included "Funny Girl" (1968), based on the life of Broadway singer Fanny Brice, his mother-in-law.
Mayo in 2005    
Virginia Mayo, actress and dancer, died in Los Angeles at age 85. Her over 40 films included "White Heat" (1933) and "Best years of Our Lives" (1946).  Mayo was Warner Brothers biggest box office money maker in the late 1940s.
Crime in 2006  
Clarence Ray Allen, the oldest inmate on death in California, was executed at San Quentin Prison on his 76th birthday. People argued that putting to death an elderly, blind, wheelchair-bound man was cruel and unusual punishment. 
Government in 2007 
The San Francisco Police Commission approved adding surveillance cameras at eight additional high-crime locations.
Science in 2008  
Scientists at Stemagen, headquartered in La Jolla, reported creating the first mature cloned human embryos from single skin cells taken from adults.
Bell in 2010 
Glen Bell Jr., who founded the Taco Bell fast food chain in 1962, died at his home in Rancho Santa Fe at age 86.
January 18
Missions in 1777
Father Thomas de la Pena dedicated Mission Santa Clara near an Indian village on the Guadalupe River. The 8th of 21missions was the first named for a woman. In 1803 the mission reported an Indian population of 1,271 with some 5,000 cattle, 7,000 sheep, 2,200 horses and 30 mules. It harvested about 220 pounds each of wheat, barley and corn.
Overland Trail in 1847
William Eddy, one of the Forlorn Hope snowshoe party trying to cross the mountain pass, gave an Indian a pouch of tobacco to carry him to the nearest settlement. People  were shocked by the sight of the starving man. They followed his bloody footprints to find and rescue other members of the Donner Party.
Newspapers in 1860
The Southern News debuted and was published semi-weekly  in Los Angeles until Oct. 3, 1862. 
Theaters in 1869 
The California Theater opened on Bush Street in San Francisco. It cost $250,000 to build. There were murals of San Francisco and a painting of the Bay on the curtain. It claimed to be the first West Coast theater to use limelight with parabolic reflectors aimed to light the stage.
Flight in 1911
Eugene Ely landed on the deck of the USS Pennsylvania in San Francisco Bay. That was the first time an aircraft landed on a ship.
Costner in 1955 
Kevin Costner, actor, singer, producer and director, was born in Los Angeles. He has won two Academy Awards, three Golden Globe Awards and an Emmy Award.
Flight in 1957 
Three B-52's completed the first nonstop, round-the-world flight by jet planes. They landed at March Air Force Base after more than 45 hours in flight. 
Sports in 1963
Al Davis became the head coach and general manager of the Oakland Raiders. 
Accidents in 1969
United Airlines Flight 266 crashed into Santa Monica Bay four minutes after taking off from Los Angeles. All 32 passengers and six crew members were killed.
Accidents in 1971
Two Standard Oil tankers collided in the fog outside of the Golden Gate Bridge, spilling some 1.9 million gallons of heavy bunker oil.
Museums in 1995 
The San Francisco Museum of Modern Art, designed by Swiss architect Mario Botta, opened. It cost $63 million.
Sports in 1997
East beat West, 11-7, in the 47th NHL All-Star Game played at San Jose Arena.
Government in 2001
A second day of rolling blackouts struck electricity-strapped California.
Business in 2001
San Francisco sued 13 energy companies for fixing electricity prices and restricting energy supplies.
Crime in 2002
Sara Jane Olson was sentenced in Los Angeles to 20 years to life in prison. The '70s radical, now a suburban mother, tried to blow up two police cars in 1975.
Sports in 2003 
Michelle Kwan, born in Torrence, won her sixth straight U.S. Figure Skating Championships title and seventh overall.
May in 2009 
Bob May, actor, died in Lancaster at age 69. He wore the Robot's suit in the hit 1960s television show "Lost in Space."
January 19
Overland Trail in 1847
Patrick Breen, traveling with the Donner Party, wrote in his diary: "Clear & pleasant. Thawing a little in the sun. Wind S.W. Peggy & Edward sick last night by eating some meat that Dolan threw his tobacco on; pretty well to day (praise God for his blessings). Lanthrom very low; in danger if relief don't soon come. Hides are all the go; not much of any other in camp."
Flight in 1937
Millionaire Howard Hughes broke the transcontinental air record by flying his plane from Los Angeles to Newark, New Jersey in seven hours, 28 minutes, and 25 seconds.
Civil Rights in 1970
UCLA fired professor Dr. Angela Davis, political activist, scholar and author. She was arrested, charged, tried, and acquitted of conspiracy in the 1970 armed take-over of a Marin County courtroom in which four persons died.
Sports in 1974
Notre Dame beat UCLA, 71–70, ending their NCAA-record 88-game streak of basketball wins.
Business in 1983
Apple announced the Apple Lisa. it was the first commercial personal computer with a graphical user interface and a computer mouse. The Lisa originally cost $9,995 but one sold to a collector for $15,000 in 2010.
Government in 1984
The California Supreme Court rejected the appeal by quadriplegic Elizabeth Bouvia to starve herself to death in a public hospital.
Sports in 1993
The Oakland A's unveiled a new elephant logo.
Sports in 2002
The Oakland Raiders lead the New England Patriots, 13-10, in the AFC Divisional Playoff Game. With under two minutes to play, Tom Brady's fumble was ruled an incomplete pass. The Patriots won in overtime, 16-13.