July 21
Exploration in 1586
Thomas Cavendish, privateer, sailed from England for Spanish colonies. He intended to raid Spanish ports and ships in the Pacific then return home by circumnavigating the globe. He returned home two years later, 27 years old and laden with treasure.
Gold Rush in 1847
James Marshall left Sutter's Fort with Sutter and an Indian guide, looking for a place to build a sawmill. They settled for a spot they called Coloma on the American River where Marshall found the gold that ignited the Gold Rush on January 28, 1848.
Accidents in 1907
The passenger steamer SS Columbia collided with the steam schooner San Pedro off Shelter Cove. The Columbia sank, killing 88 people.
Earthquakes in 1952
The Kern County earthquake in the southern San Joaquin Valley measured 7.3 on the Richter scale. Twelve people were killed, 18 injured and it caused an estimated $60 million in property damage, centered around Tehachapi. It was the strongest earthquake in California since the 1906 San Francisco earthquake.
Education in 1999
Lilly Endowment Inc. of Indianapolis awarded $50 to the San Francisco based Hispanic Scholarship Fund.
Reisner in 2000
Marc Reisner, environmentalist author, died in Marin at age 51. His Cadillac Desert (1986) was an indictment of water management in the West.
Fire in 2002
The McNally Fire burned 150,670 acres in Sequoia and Inyo National Forests as well as in Giant Sequoia National Monument. It destroyed 14 structures and cost an estimated $45.7 million. It burned for more than a month.

Education in 2006
California Department of Education said an estimated 5% of high school seniors did not  graduate because they failed the exit exam.
Mako in 2006
Mako, born Makoto Iwamatsu, Japanese-born film and television actor, died in Somis at age 72. He co-founded the East West Players, the first Asian-American theater company (1965).
Craig in 2008
Sid Craig, entrepreneur, died in Del Mar at age 76. He and his wife Jenny, a fitness expert, founded Jenny Craig. Today it has some 700 weight management centres in Australia, the U.S., Canada, New Zealand and Puerto Rico. 
Government in 2009
Oakland voters overwhelmingly approved the first tax on medical marijuana dispensaries in the U.S.
Backer in 2010
Don Backer, astronomer and pioneer in the use of the radio telescope, died in Berkeley at age 66. He led a group that discovered PSR B1937+21, a pulsar with a rotation period of just 1.6 milliseconds.
LGBTQ in 2012
U.S. military marched for the first time in full uniform at San Diego's Gay Pride Parade.
July 22
Exploration in 1769
Gaspar de Portolà, with Father Crespí, 63 leather-jacket soldiers and a 100 mules loaded with provisions camped at Cristianitos Canyon. They were marching north from San Diego, searching for Monterey Bay. Their campsite is near modern San Clemente in Orange County.
Inventions in 1884
Felice Molini of San Francisco patented a pea shelling machine. It was designed to be run by steam, horse or other "suitable power."
Inventions in 1890
Olive Christin of Bodie patented a steam cooker. "My invention relates to food cookers or steamers, and has for its object to provide a simple, inexpensive, and efficient apparatus of this character which will cook several different kinds of edibles at once without giving one the flavor of the other, and with economy of time, space, labor, and fuel."
Crime in 1916 
A suitcase bomb exploded in San Francisco during a Preparedness Day parade, killing 10 and injuring 40. The attack on the event supporting U.S. entry into World War I was the deadliest in San Francisco history. Two labor leaders, Thomas Mooney and Warren K Billings, were convicted; one sentenced to life in prison and the other to death. Years later, a commission reviewing the evidence found no proof of their guilt and the men were pardoned and released.
Crime in 1957
Two El Segundo police officers were shot and killed after pulling over a car for running a red light. Gerald Mason, then 68-years-old, was arrested following fingerprint ID from a FBI database (2003).
Crime in 1995
Elyse Pahler, 15 years old, was murdered in San Luis Obispo by teenagers in a death metal band called Hatred. Her body was not found for 8 months until revealed by Joseph Fiorella (16), who received a 26 year to life sentence. 
Memorials in 1997
A group of Armenian organizations purchased .38 acres on Mt. Davidson in San Francisco for a memorial to Armenians massacred during World War I. 
Kovacs in 2007
László Kovács, cinematographer, died in Beverly Hills at age 74. He was a pioneer of New Wave films in the 1970s, most famously for "Easy Rider" (1969) and "Five Easy Pieces" (1970).
Government in 2008
California reported 63,061 foreclosures during the 2nd three months of the year.
Government in 2008
Governor Schwarzenegger signed a law giving pet owners the right to set up a trust to care for their animals. 
Getty in 2008
Estelle Getty, actress and comedienne in film, television and theatre, died in Los Angeles at age 84. She was best known as sarcastic Sophia on "The Golden Girls" (1985-1992).
Accidents in 2010
A Greyhound bus crashed near downtown Fresno killing six people, injuring nine. It had struck an overturned SUV. The 18-year-old driver  SUV driver was found to have a .11% blood alcohol level.
July 23
Crime in 1849
Twenty-four members of the Hounds were convicted of conspiracy, riot, robbery and assault with intent to kill in a trial before San Francisco's Alcalde. They were members of an early racist gang with roots in New York, that attacked Chileans, Peruvians and Mexicans.
Religion in 1854
Emanu-El synagogue founded in San Francisco. The German Jewish congregation  was one of the first in California. Today the congregation of over 2,100 households still includes original families.
Crime in 1877
White rioters burned Chinese laundries in San Francisco. Four people were killed and more than $100,000 worth of property was destroyed in Chinatown. Anti-Chinese sentiment spread throughout the U. S., culminating in the Chinese Exclusion Act in 1882.
Imus in 1940
Don Imus, radio personality, radio host, humorist, landscape photographer, philanthropist and writer, was born in Riverside.
Music in 1942
Harry James and his Orchestra recorded "I Had the Craziest Dream" in Hollywood for Columbia Records.
Japanese American Internment in 1942
Pinedale Detention Camp closed. The Camp near Fresno was one of 15 temporary detention centers that securely moved approximately 110,000 Californians of Japanese ancestry to ten internment prisons during World War II.
Griffith in 1948
D.W. Griffith, pioneer filmmaker, died in Los Angeles at age 73. He is best known as director of "The Birth of a Nation" (1915).
Accidents in 1982
Actor Vic Morrow and two child actors were killed when a helicopter crashed on top of them during filming of a Vietnam War scene for "Twilight Zone: The Movie" (1983).
Business in 1998
Odwalla Inc., in Half Moon Bay, agreed to pay a $1.5 million fine for contaminated apple-based juices.
Fire in 2002
Fire in Sequoia National Park burned 48,200 acres in three days.
Government in 2003
A ballot to recall Governor Gray Davis qualified for the October 7 election.
Accidents in 2007
A helicopter delivering water to firefighters in the Klamath National Forest crashed, killing the pilot. More than 1,100 fire fighters were battling about 30 lightning-sparked fires covering 14 square miles near the Oregon state line, threatening 550 homes near Happy Camp.
Business in 2008
Napa Valley's Chateau Montelena, winner of a legendary 1976 wine tasting event in France, was bought by Cos d'Estournel of France.
Business in 2008
Google, in Mountain View, unveiled a new service dubbed "Knol." Contributing authors would share in ad revenue in this Internet encyclopedia.
Harris in 2009
E. Lynn Harris, author, died in Los Angeles at age 54. Invisible Life (1994) was a coming-of-age as a gay man story. His ten consecutive books reached The New York Times Best Seller list, making him among the most successful African-American or gay authors of his era.
Crime in 2010
Three administrators in Bell, a small community near Los Angeles, agreed to resign. Their huge salaries sparked outrage. Robert Rizzo was paid $787,637 a year, Angela Spaccia $376,288 a year and Randy Adams $457,000.  Seven officials were convicted on graft and corruption charges and given sentences up to 12 years in prison.
July 24
Transcontinental journeys in 1929
The second Trans-American foot race from New York to San Francisco ended after 2½ months. The winner was 60-year-old Harry Abrams, who placed 11th in 1928. He was the first person to run across the continental U.S. twice. 
Ramos in 1935
Mel Ramos, pop artist, was born in Sacramento. He is best known for paintings superheroes and nude women emerging from cornstalks or Chiquita bananas, with candy or in martini glasses.
Television in 1953
KEYT-TV channel 3 in Santa Barbara began broadcasting. During the 1950s, the station ran programming from all four TV networks: ABC, CBS, DuMont, and NBC. Today it is an ABC affiliate.
Radio in 1982
KHJ, in Los Angeles, and KFRC, in San Francisco, became the second and third stereo AM stations. Both began in the 1920s. KFRC no longer operates today but but KHJ broadcasts Spanish language entertainment.
Crime in 1986
A San Francisco Federal jury convicted Jerry Whitworth, U.S. Navy radioman, of spying for Russia. He was sentenced to seven life terms in prison on the espionage convictions, plus 17 years for tax fraud and fined $520,000.
Sports in 1987
Hulda Crooks, 91-year-old mountain climber from California, became the oldest woman to conquer Mount Fuji, Japan's highest peak.
Crime in 2006
Dennis Herrera, San Francisco City Attorney, obtained a civil injunction and $20,000 in penalties against Carlos Romero for his graffiti. This was the first time the city sued a graffiti tagger.
Power in 2006
Thousands of California customers lost power as a scorching heat wave threatened to push the state into a power emergency with more blackouts possible. 
Crime in 2007
Contra Costa County prosecutors announced charges against Diablo Valley College for changing students' transcript grades in exchange for cash.
Business in 2007
Intel Corp., headquartered in Santa Clara, announced the first modulator made from silicon that can encode data onto a beam of light at a rate of 40 billion bits per second (gigabits). Such speeds represented a rate 40 times faster than most corporate data networks.
Government in 2009
California Senate approved a plan to close the state's $26 billion budget deficit, providing hope after weeks of fiscal gloom.
Government in 2009
An Oakland city parking department memo ordered officers to avoid enforcing violations in some wealthy neighborhoods, but continue enforcing violations in the rest of the city.
Government in 2012
Alameda County Board of Supervisors voted 5-0 for the Safe Drug Disposal Ordnance. It required producers of drugs sold or distributed in the county to pay for safe collection and disposal of unused medications
July 25
Missions in 1797
Father Fermin Lausen dedicated Mission de San Miguel Arcángel. The site for California's 16th mission was chosen for the large Salinan Indian population that the priests wanted to evangelize. Today the mission in San Luis Obispo County is a parish church of the Diocese of Monterey.
Accidents in 1850
The clipper ship Frolic, sailing from Hong Kong to San Francisco, wrecked off the Mendocino coast. It carried opium from India to China to trade for silver and merchandise. The crew escaped but the cargo was lost. She carried ornately carved camphor trunks, fine silks, tables with inlaid marble tops, a prefabricated two-room house with oyster-shell windows, gold filigree jewelry, mother-of-pearl gambling pieces, ivory napkin rings and 6,109 bottles of English ale.
Crime in 1853
Joaquin Murrieta, the Californio bandit also known as "Robin Hood of El Dorado," was killed. He was considered a bandit or a Mexican patriot, depending on your point of view.
Crime in 1878
Charles Earl Bowles, English born gentleman bandit known as Black Bart, left poems at the scene of his crimes. He held up Wells Fargo stagecoaches 28 times. The fifth robbery was one mile from Barry Creek Sawmill in Butte County.
Protests in 1896
An estimated 5,000 cyclists gathered in San Francisco to demonstrate for better roads.
London in 1897
Jack London, 17 years old, sailed to join the Klondike Gold Rush. From there he began submitting stories to magazines. The Son of the Wolf, was published in 1900 and The Call of the Wild in 1903.
Fire in 1901
Fire destroyed the Byron Hot Springs Hotel in Byron. A new hotel designed by James and Merritt Reid was built but burned in 1912 and was replaced again by James Reid in 1914.
Fire in 1903
Telegraph Hill Observatory burned and closed. It was known as the "party palace and observation post atop Telegraph Hill" since it opened in 1882. It staged jousting contests to attract customers. But the Observatory was too inaccessible on top of the hill. The building's materials were hauled away for firewood. Today it is the site of Julius' Castle, a landmark restaurant.
Women in 1918
Annette Abbott Adams became the female Assistant Attorney General of the United States. Born in Prattville, she became one of the first female school principals in the state and one of the first women admitted to the California Bar.  
Paris in 1925
Jerry Paris, television actor-director, was born in San Francisco. He is best known as the dentist next door on "The Dick Van Dyke Show" (1961-1966).
Music in 1944
Bing Crosby and the Andrews Sisters recorded Cole Porter's "Don't Fence Me In" in Los Angeles for Decca Records.
Transportation in 1967
Construction began on San Francisco's Muni Metro, a light rail/streetcar system that began in 1912. Today it's the third largest U.S. light rail system, ridden by more than 160,100 people daily.

Movies in 1980
Red Vic repertory Movie House in San Francisco opened at Haight and Belvedere. It moved in 1991 then closed in 2011 after a final birthday screening.
Sports in 1990
Roseanne Barr, comedian, sparked controversy when she sang the "Star-Spangled Banner" off key, grabbed her crotch and spit on the pitcher's mound at Jack Murphy Stadium in San Diego.
Radio in 1991
Howard Stern added KLSX FM-97.1 in Los Angeles to his New York syndicated show. Within 18 months, he dominated markets in both cities, a feat never before accomplished.
Protests in 1997
Some 5,000 bicycle riders in San Francisco defied the approved route for the Critical Mass ride and struck out on their own. Some 250 were arrested for traffic violations. Confrontations between bikers, police and commuters were reported.
Schlesinger in 2003
John Schlesinger, film and stage director and actor, died in Palm Springs at age 77. His films included "Midnight Cowboy" (1969) and "Sunday Bloody Sunday" (1971).
Business in 2005
Intel, in Santa Clara, announced plans to build a $3 billion computer microprocessor fabrication plant in Arizona.
Crime in 2005
Nels Niemi, San Leandro police officer, was shot and killed by Irving Ramirez, a convicted methamphetamine user. He was arrested, convicted and sentenced to die by lethal injection.
Rainey in 2005
Ford Rainey, stage, film and television actor, died in Santa Monica at age 96. He was a familiar face on screen from 1949 until the 1980s, when he appeared in commercials.
Government in 2006
San Francisco Supervisors approved providing health care coverage to the city's some 82,000 uninsured residents.
Business in 2006
Hewlett-Packard, in Palo Alto, signed a $4.5 billion agreement to buy Mercury Interactive Corp., a maker of software for information technology networks.
Crime in 2007
Stockton police arrested 51 alleged gang members and seized $400,000 worth of drugs following a 6-month investigation. Members and affiliates of the Norteno and South Side gangs were arrested.
Accidents in 2007
PG&E electrical breakers in San Francisco caused a power outage that knocked out a number of Web sites.
Environment in 2007
The East Contra Costa County Habitat Conservation Plan was unveiled. It called for $350 million spent over 30 years to preserve 30,000 acres of open space around Mt. Diablo. It also listed some 12,000 acres for new development.
Government in 2008
Governor Arnold Schwarzenegger signed a bill banning trans fat in restaurants and food facilities. California was the first state to do so. 
Burns in 2008
Harriet Burns, film artist and designer, died in Los Angeles at age 79. Hired in 1955, she was a founding source for Walt Disney Imagineering and Disneyland's development. She appears on several episodes of Disney's "Wonderful World of Color," a backstage look at the Walt Disney Company.
Government in 2011
Governor Jerry Brown signed the "Dream Act."allowing illegal immigrants to receive privately funded scholarships for the state's public colleges and universities.
Crime in 2013
Barnaby Jack, a 35-year-old hacker who specialized in finding security flaws, was found dead in San Francisco. He had been due to give a presentation entitled "Implantable Medical Devices: Hacking Humans." Police ruled out foul play.
July 26
Emperor Norton in 1860
Norton I, Emperor of North America and Protector of Mexico, issued a royal proclamation dissolving the United States. San Francisco's celebrated eccentric issued several other royal proclamations, including one commanding that a bridge be built where the Oakland Bay Bridge now stands.
Crime in 1875
Charles Earl Bowles, English born gentleman bandit known as Black Bart, left poems at the scene of his crimes. He held up Wells Fargo stage coaches 28 times. His first was in Calaveras County near Copperopolis.
Movies in 1951
"Alice in Wonderland," Walt Disney's 13th animated film, premiered. It failed commercially and critically at first but has became one of the most popular Disney movies of all time.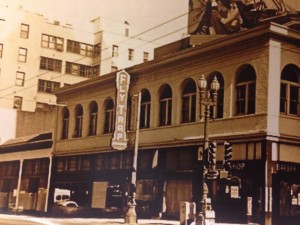 Business in 1963
The Fly Trap in San Francisco, open since 1883, closed to make room for the 43-story Wells Fargo Tower. Today the restaurant is under new management.
Mountain climbing in 1989
Mark Wellman, 29-year-old paraplegic, reached the summit of El Capitan in Yosemite National Park after hauling himself up the granite cliff six inches at a time over nine days.
Sports in 1991
Mark Gardner, Montreal Expo's pitcher, no-hit the Los Angeles Dodgers for 9 innings but lost in the 10th; 1-0.
Business in 2000
Napster Inc., in Los Angeles, was ordered to halt all illegal song swapping over the Internet. 
Business in 2001
Hewlett-Packard, in Palo Alto, announced 6,000 worldwide job cuts and JDS Uniphase, headquartered in Milpitas, announced another 7,000 cuts.
Business in 2002
Texas Pacific Group, in Fort Worth, Texas and San Francisco, agreed to buy Burger King for $2.26 billion.
Government in 2003
People working to oust Governor Gray Davis held a celebration in Sacramento, more than two months before the October 7 election, with his recall on the ballot.
Crime in 2006
Nick-Tomasito Birco, 39-year-old San Francisco police officer, was killed when a van carrying four robbery suspects broadsided his patrol car. 
Business in 2007
Oakland Mayor Ron Dellums brokered negotiations between the locked-out Teamsters' Union and Waste Management following 25 days of uncollected trash.
July 27
Exploration in 1769
Gaspar de Portolà named Santiago Creek. Father Crespi wrote in his diary; "We halted after three leagues' travel near an arroyo of running water, although it was evident that it was diminishing because of the drought, and little by little the waters were being absorbed by the sand. It has willows, grapevines, brambles, and other bushes. It comes down from the mountains, and shows that it must have plenty of water in the rainy season." The campsite was near today's Santiago Creek Wildlife & Watershed Center in Orange County.
Overland journeys in 1846
Donner Party reached Fort Bridger. They rested for four days at the corral and cabins of mountaineer Jim Bridger, a fur trader, where they learned that Hastings, their guide, had left instructions to follow him.
Accidents in 1862
The SS Golden Gate, sailing from San Francisco to Panama City, caught fire and sank off Manzanillo, Mexico. 204 people perished or were missing. Aside from her passengers, she carried $1,400,000 in gold bullion. Today the beach where she sank is called Playa de Oro.
Post offices in 1870
A U.S. Post Office opened in San Jacinto. The city, founded in 1870, was incorporated in 1888, making it one of the oldest in Riverside County. Some 44,000 people live there, according to the 2010 census.
Fairs in 1894
The Midwinter International Exposition opened in San Francisco's Golden Gate Park. It featured an Electric Tower, a Royal Pavilion and an Egyptian-styled building that became the de Young Museum. 
Film in 1940
Warner Bros. introduced Bugs Bunny in the animated short "A Wild Hare." Elmer Fudd would change a bit, but his voice and look were largely settled.
Crime in 1969 
Gary Hinman, musician and UCLA Ph.D. candidate, was murdered at his home in Topanga Canyon. Bruce Davis, a member of Charles Manson's cult, was convicted for murdering Hinman and stuntman Donald "Shorty" Shea.
Sports in 1982 
Rickey Henderson, Oakland A's, was caught stealing bases three times by the California Angels. Henderson was among the league's top ten base stealers in 21 different seasons.
Crime in 1989
Charles Stevens, age 20, was arrested on an Oakland freeway on-ramp. He was watching police at the wrecked car of his last murder victim. He killed four people and shot at 10 others. 
Sports in 1999
Tony Hawk landed the first 900 on a skateboard (2 1/2 complete revolutions) at the X Games in San Francisco. Hawk launched a sports exhibition and tour, called Boom Boom HuckJam, appeared in films and a video game series. His foundation helps build skateparks in underprivileged areas. 
Environment in 2006
Some 125 people reportedly died in California over 12 days from a heat wave. It killed some 16,000 livestock in the Central Valley as well as 1 million poultry.
Environment in 2006
Trust for Public Land donated 6,845 acres of coastline property north of Santa Cruz to California for public use. 
Business in 2006
Intel, in Santa Clara, introduced microprocessors called Core 2 Duos. They were higher performance and consumed less power.
Government in 2007
San Francisco Mayor Gavin Newsom signed a $6.06 billion spending package, the largest budget in the city's history.
Government in 2010
San Francisco supervisors voted to transform the abandoned Hunters Point Naval Shipyard into a waterfront community.
Business in 2010
Walt Disney Co., in Burbank, bought Playdom Inc. of Mountain View, for $563.2 million. Playdom makes social-networking games.
Martin in 2012
Tony Martin, singer and actor, died in Los Angeles at age 98. He appeared in over 30 films and was married to performer Cyd Charisse for 60 years.
July 28
Exploration in 1769
Gaspar de Portolà named Rio de los Temblores. He was with Father Crespí, 63 leather-jacket soldiers and a 100 mules loaded with provisions, marching north from San Diego to search for Monterey Bay. They named the river, now called the Santa Ana River in Orange County, after experiencing earthquakes.
Transportation in 1849
The Memnon, a clipper ship, anchored  in San Francisco Bay. She later set a speed record of 120 days from New York to San Francisco.
Accidents in 1938
The Hawaii Clipper airplane disappeared between Guam and Manila with six passengers and nine crew. "Flying boat" service from San Francisco to Manila involved about 60 hours of flying time over six days with stops at Hawaii, Midway, Wake Island and Guam. This was the first loss of a trans-Pacific China Clipper.
Sports in 1976
John Odom and Francisco Barrios, Chicago White Sox pitchers, no-hit the Oakland A's, pitching 5 and 4 innings respectively.
Flight in 1976
Eldon Joersz set a world air speed record of 2,194 mph, flying a SR-71A Blackbird 61-7958, from Beale Air Force Base, near Marysville.
Sports in 1984
The Summer Olympics opened in Los Angeles. In response to the American-led boycott of the 1980 Summer Olympics in Moscow, 14 Eastern Bloc countries including the Soviet Union, Cuba and East Germany  boycotted the Los Angeles event.
Sports in 1991
Dennis Martinez, Montreal Expos, pitched a perfect game as they  beat the Los Angeles Dodgers, 2-0.
Accidents in 2005
Stephen McCullagh, 29-year-old assistant scoutmaster from St. Helena, and Ryan Collins, a 13-year-old Boy Scout, were killed by lightning in Sequoia National Park in the Sierra Nevada.
Government in 2009
Governor Arnold Schwarzenegger cut a half billion more from the state budget and signed legislation to wipe out the state's $24 billion deficit. State lawmakers later hired 336 employees, adding about $14.4 million a year to the state payroll.
Government in 2010
Governor Arnold Schwarzenegger, citing a cash crises, furloughed 156,000 state employees, requiring them to take 3 unpaid days a month.
Crime in 2010
Two women were charged with writing $2.6 million in bonus checks to themselves from Autonomy Inc., a software company in San Francisco.
Berg in 2011
Peter Berg, co-founder of the Diggers and founder of the Planet Drum Foundation, died in San Francisco. The Diggers were a group of radical social activists and Improv actors in San Francisco's Haight-Ashbury. (1966-68).