July 3
Sutter in 1839
John Sutter visited Monterey. He met with Governor Alvarado to discuss establishing himself in Alta California. On August 1,1839, he sailed three boats loaded with provisions up the Sacramento River to where he would build his fort. 
Lighthouses in 1856
A lighthouse was erected to guide ships passing through the Santa Barbara Channel. Battery Point Lighthouse, one of the first on the California coast, was built about two miles north of the city at the present site of Shoreline Park. 
Communication in 1861
A Pony Express rider reached San Francisco with letters from New York. Riders from the East and West delivered mail in ten days. The Pony Express ended on October 24, 1861 when the transcontinental telegraph was completed.
Theater in 1879
H.M.S. Pinafore debuted at Tivoli Theater in San Francisco. The Gilbert and Sullivan show sold out 1,000 seats for 63 consecutive nights. They sailed south and later played at Horton Hall in San Diego. 
Sports in 1957
The first triple dead heat finish happened at Hollywood Park in Los Angeles. A winner could not be identified in the three-way tie race by the horses named Joe's Pleasure, Challenger Tom and Leaful. They raced for a $5,000 purse.
Trigger in 1965
Trigger, Roy Rogers' 25-year-old golden palomino horse, died. It was displayed for years at the Roy Rogers and Dale Evans Museum in Apple Valley. 
Crime in 1979
Dan White, convicted in the shooting deaths of San Francisco Mayor George Moscone and Supervisor Harvey Milk, was sentenced to seven years and eight months in prison. 
Newspapers in 1980
The Berkeley Barb, a weekly underground newspaper, released its final issue. It debuted in 1965 and was one of the first and most influential counterculture newspapers of the late 1960's.
Sports in 1988 
Gene Nelson, Oakland A's, was the first American League pitcher to steal a base since 1973. He was pinch running for Don Baylor in a 16-inning win over the Toronto Blue Jays, 9-8. 
Backus in 1989
Jim Backus, radio, television, film, and voice actor, died in Los Angeles at age 76. He was the voice of nearsighted cartoon character Mr. Magoo.
Business in 1996
Union Pacific purchased Southern Pacific Rail Corp., in San Francisco, for $5.4 billion. The merger eliminated some 3,500 jobs.
Crime in 2007
A Los Angeles jury awarded $6.2 million to firefighter Brenda Lee. She was harassed by colleagues because for being black and lesbian. 
Harmon in 2008
Larry Harmon, better known as Bozo the Clown, died in Los Angeles at age 83. In 1956 he purchased the licensing rights to the Bozo character from Capitol Records and licensed local Bozo television shows worldwide. 
Crime in 2011
A San Francisco BART officer shot and killed a man at the Civic Center Station who had used a bottle as a weapon and drew a knife on an officer.
July 4
Missions in 1823
Father Jose Altamira dedicated Mission San Francisco Solano. It was the 21st and final mission in Alta California and only one established under Mexican rule. The mission in Sonoma was located to prevent Russians at Fort Ross, about 60 miles away, from expanding settlements inland.
Overland Trail in 1846
The Donner Party celebrated at Fort Laramie. Patty Reed's 12-year-old step-sister, Virginia, wrote about the it in a letter: "We celebrated the 4 of July on plat at Bever crick, serveral of the gentemen in Springfield gave paw a botel of liker and said it shouden be opend till the 4 day of July and paw was to look to the east and drink it and they was to look to the West and drink it at 12 o clock paw treted the company and we all had some lemminade,"
Gold Rush in 1848
John Bidwell discovered gold in the Feather River. By 1853, Bidwell Bar had 2,000 inhabitants, a post office and had become the Butte County county seat.
Newspapers 1849
The Daily Alta California was printed on a steam press, the first in the West. It had been printed on a hand press since January 4, 1849. The newspaper continued until June 2, 1891.
Theaters in 1850
The Dramatic Museum opened in San Francisco. Dr. D. G. "Yankee" Robinson's 200 seat theater was on California Street. He entertained the crowd by making fun of city leaders. 
Newspapers in 1850
The Sonora Herald was first published in Stockton. A few days later the newspaper's printing press was moved to Sonora. It was published weekly in English and Spanish.
Transportation in 1860
Market Street Railroad Co. opened a line in San Francisco. It ran on Market from Third to Valencia, with horse-drawn cars and steam trains. It was the first street railway on the Pacific Coast.
Inventions in 1871
Julie Desmarques Young, of San Francisco, patented an Improvement in toilet pastes. "Elixir de Beaumondaire, [is] to be used on the face and hands for the purpose of healing, rejuvenating, and beautifying the skin, and obliterating all wrinkles."
Power in 1876 
Electric lights were first publicly exhibited in San Francisco. Joseph Neri lit a nighttime parade down Market Street. He threw a lever, lighting it with arc lights and reflectors suspended by wires.
San Francisco in 1882
Telegraph Hill Observatory opened in San Francisco. The "party palace and observation post atop Telegraph Hill," where Coit Tower stands today, staged jousting contests in the mid-1880's. It failed because of Telegraph Hill's inaccessibility and the building materials were hauled away for firewood.
Goldberg in 1883
Rube Goldberg, cartoonist, was born in San Francisco. He was known for cartoons featuring absurdly complicated mechanical devices to accomplish absurdly simple tasks.
Fairs in 1894
Midwinter Fair at San Francisco's Golden Gate Park closed. The World's Fair opened on January 27. Some 2 million people attended.
Communication in 1903
President Theodore Roosevelt sent a telegraph message on the Pacific Cable. It connected San Francisco with Hawaii, Guam and the Philippines. His message, that took nine minutes, would have taken weeks to travel the same distance previously. 
Sports in 1907
Tommy Burns, heavyweight champion, knocked out Bill Squires of Australia in the first round in Colma. In 1908 Burns fought Jack Johnson, becoming the first boxer to fight an African American for the heavyweight championship. Johnson won. 
Rose in 1916
Iva Toguri D'Aquino, known as Tokyo Rose, was born in Los Angeles. She broadcast anti-US propaganda over the radio from Japan during World War II. Imprisoned after the war, she received presidential pardon in 1977. 
Parks in 1924
San Mateo opened its first county park. San Mateo County Memorial Park, a 450-acre Redwood grove near Pescadero, was dedicated to local soldiers who died in World War I.
Bridges in 1933
Work began on the Oakland Bay Bridge across San Francisco Bay.
War in 1942
Salinas Detention Camp closed. It was one of 15 temporary detention centers that securely moved approximately 110,000 Californians of Japanese ancestry to ten internment prisons during World War II.
Flight in 1944
Stanley Hiller Jr., 19 years old, flew his XH-44 helicopter free from its tether for the first time at U.C. Berkeley. 
Music in 1964
The Beach Boys' "I Get Around" reached #1on the Billboard charts. It was their first #1 hit song in the US. "Surfin' Safari" went to #1 in Sweden two years earlier.
Crime in 1969
The Zodiac Killer shot two teens sitting in their car at Vallejo's Blue Rock Springs just before midnight. They were his second known victims. The young man survived but his girlfriend died.
Radio in 1970
"American Top 40" debuted on Los Angeles radio, hosted by Casey Kasem. Today it is an internationally syndicated independent song countdown radio program. 
Television in 1973
The newly built Sutro Tower, a 977 foot tall, three-pronged antenna in San Francisco, sent its first television transmission. It has become a San Francisco iconic image. 
Flight in 1982
Space Shuttle Columbia landed at Edwards Air Force Base. Nearly a half-million people packed the  shoreline of Rogers Dry Lake and 45,000 more crowded into NASA's Dryden Flight Research Center as Space Shuttle Columbia landed to conclude its fourth orbital test flight.
Gabor in 1995
Eva Gabor, Hungarian-born socialite and actress, died in Los Angeles at age 78. She was best known for her role on "Green Acres" (1965-1971). Her sisters, Zsa Zsa and Magda, were also actresses and socialites. 
Science in 1996
Koko, born at the San Francisco Zoo and the first gorilla to use sign language, asked for a box of scary, rubber snakes and lizards on her 25th birthday. She knew some 1,000 signs of "Gorilla Sign Language."
Accidents in 2002
A Cessna 310 plane crashed at Frank Bonelli Regional County Park at San Dimas, killing three people.
White in 2003
Barry White, singer and songwriter, died in Los Angeles at age 58. His rich bass love songs drew a generation of fans with songs like, "Can't Get Enough of Your Love, Babe" (1974).
Fires in 2007
The Zaca Fire began near Buellton in Santa Barbara County. It burned over 240,207 acres, making it California's second largest fire after the Cedar Fire of 2003.
Fires in 2008
Twenty-seven major fires were burning in California. These included the Basin Complex Fire in Los Padres National Forest where over 68,700 acres were scorched and the Indians Fire in Monterey County with 81,300 acres consumed.
Keyes in 2008
Evelyn Keyes, film actress, died in Montecito at age 82. She married film directors John Huston and Charles Vidor and jazz musician Artie Shaw. Her nearly 50 films included "Gone With the Wind" (1939).
Levin in 2009
Drake Levin, lead guitarist for Paul Revere and the Raiders, died in San Francisco at age 62. He was known for playing on his knees, standing on his amplifier and playing his guitar behind his head. 
Contests in 2010
Joey Chestnut, age 26, of San Jose, ate 54 hot dogs to win his 4th straight Nathan's Famous Fourth of July International Hot Dog Eating Contest at Coney Island in New York.
Crime in 2010
Five San Francisco City electricians were charged with fraudulently moonlighting on city time for four years. 
Labor in 2013
Negotiators from BART and two unions agreed to a 30-day current contract extension. Transit workers agreed to return to work on July 5.
July 5
Exploration in 1595
Sebastian Rodriguez Cermeño and his 80-member crew sailed from Philippines for Alta California. He sought a safe harbor for the return trip from China to Mexico. His cargo included porcelain, silk and other luxury items. After four-months at sea, they anchored in a large, sheltered bay, later named Drakes Bay.
War in 1846
John Frémont returned to Sonoma from Yerba Buena  to organize the California Battalion. He intended to continue the bear flag revolt to free Alta California from Mexican rule.
Gold Rush in 1849
The Niantic anchored in Yerba Buena Cove. Because there were few buildings in San Francisco, her owners turned her into a storage and auction house for imported goods and built a hotel on her deck. Today her historic site is beside the Transamerica Pyramid.
Crime in 1851
Juanita was hanged at Downieville. She stabbed an Australian miner during a fight. Some say her hanging, the only one of a woman during the Gold Rush, was anti-Mexican violence.
Theater in 1853
Lola Montez performed her spider dance in Sacramento. The Sacramento Daily Union said, "Altogether so racy a night's entertainment has never been witnessed in Sacramento…" Montez temporarily settled in Grass Valley, where she kept a tame grizzly bear and taught dancing lessons to the child actress, Lotta Crabtree.
Post offices in 1861
A U.S. post office opened at New Almaden. The mercury mine there is the oldest and most productive in the US. Miners used some 26,000,000 pounds of mercury to process gold mining during the Gold Rush, causing an  environmental hazard still present today.
Taylor in 1923 
Edward Robeson Taylor, mayor of San Francisco, died. He also was dean of Hastings College of the Law, a poet and Book Club of California founder.
Labor in 1934 
Police shot at striking longshoremen in San Francisco on "Bloody Thursday,"  killing two and wounding 109 strikers. Violence broke out during a dock workers and longshoremen strike when strike breakers starting to move goods from the docks to warehouses.
Newspapers in 1938
Herb Caen's column debuted in the San Francisco Chronicle. It ran daily for nearly 60 years. He said, "One day if I go to heaven…..I'll look around and say 'It ain't bad, but it ain't San Francisco'."
Libraries in 1939
Palm Springs Public Library was founded. An informal library started in an adobe building in 1919. Today the library sees 225,000 visitors yearly in a city with 45,907 people (2012 census).
Radio in 1948
The pilot episode aired of Lucille Ball's "My Favorite Husband."  It was her first regular radio program on CBS and became the basis for "I Love Lucy."
Sports in 1987 
Mark McGwire, Oakland A's, was the first rookie to hit 30 home runs before the All Star break. 
Government in 2007
San Francisco faced a $4.9 billion unfunded liability to pay for health care for retired city employees. 
Wightman in 2007
Kingsley Wightman, science educator, died in Oakland at age 91. He amazed visitors to Chabot Space and Science Center in Oakland for 46 years with tricks using hydrogen, helium and lightening rods.
Bachar in 2009
John Bachar, 52-year-old free-style rock climber, fell to his death from an eastern Sierra wall near Mammoth Lakes. A fitness fanatic, he created the climbing training device known as the Bachar ladder.  
Government in 2011
A bill requiring public schools to teach the historical accomplishments of gay men and lesbians passed the California legislature. No Republican voted for it.
Crime in 2011
Manuel Ramos and Jay Cicinelli, Fullerton police officers, killed Manuel Ramos, a 37-year-old mentally ill homeless man. The confrontation took place at the Fullerton Transportation Center. The beating was captured on video.
July 6
War in 1848
President James Polk ratified the treaty of Guadalupe Hidalgo. The treaty to end fighting was signed in Mexico on February 2, 1848. It gave the US ownership of California and land that comprises New Mexico, Arizona, Nevada, Utah and parts of Wyoming and Colorado.

Overland Journeys in 1903
George Wyman arrived in New York City by motorcycle 51 days after he left San Francisco. He was the first person to cross of the U.S. by motor vehicle. Wyman rode a California Motorcycle Co. motor bicycle. He finished 20 days before Horatio Jackson, the first person to cross the continent by automobile.
Parks in 1911
Devils Postpile National Monument was dedicated. It is near Mammoth Mountain in northeastern Madera County and protects an unusual rock formation of columnar basalt. 
Leigh in 1927
Janet Leigh, film actress, was born as Jeanette Helen Morrison in Merced. She was best known for her performance in Alfred Hitchcock's "Psycho" (1960).
Riots in 1947
The Hollister riot ended after three days. Things got out of hand when the American Motorcyclist Association rally drew double the expected number of bikers from around the US. Reporters sensationalized the event which inspired the outlaw biker film "The Wild One" (1953) starring Marlon Brando.

Overland Journeys in 1960
Dr. Barbara Moore, Russian-born health enthusiast, reached New York City. She walked from Los Angeles in 86 days. A vegetarian, she ate only nuts, honey, raw fruit and vegetable juice on her 3,387-mile journey.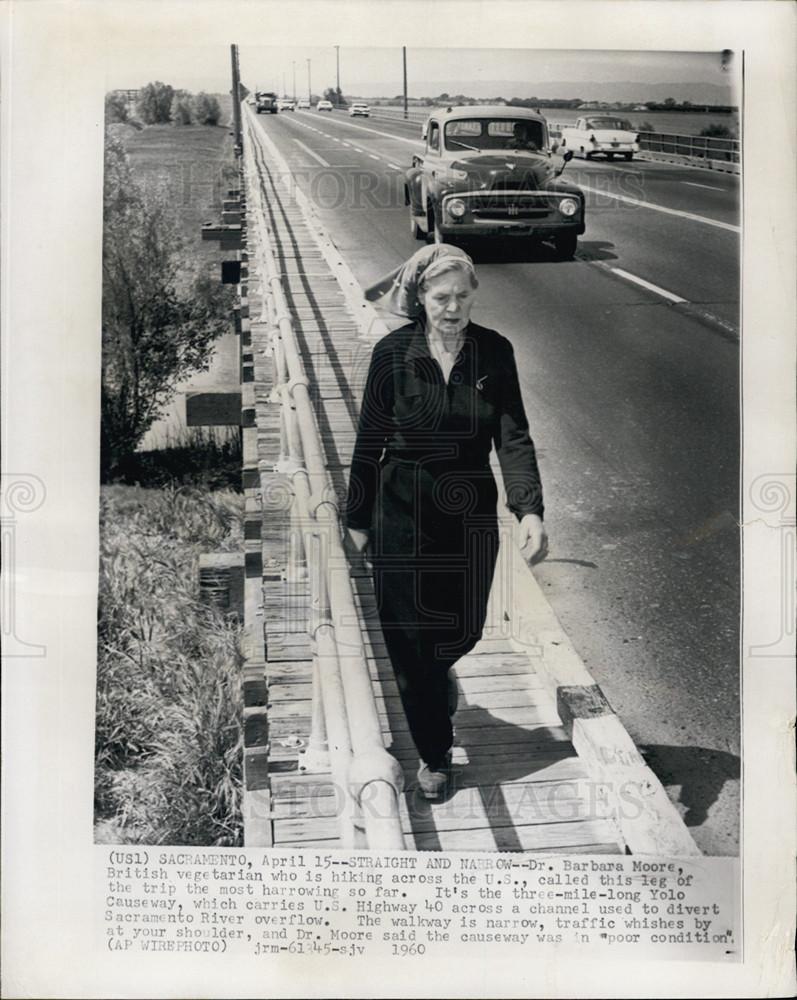 Music in 1965
Jefferson Airplane formed in San Francisco. Pioneers of psychedelic rock, they were the first San Francisco band to achieve international success. Rolling Stone lists "Somebody to Love" and "White Rabbit" in its 500 Greatest Songs of All Time.
Government in 1970
California passed the first "no fault" divorce law in the U.S.. This made it possible to end a marriage without a husband or wife proving the marriage failed because it was the other person's fault.
Rogers in 1998
Roy Rogers, singing cowboy actor on film and television, died at age 86 in Apple Valley. He starred in 81 Westerns films and 101 episodes of his televation show. Rogers typically appeared with his wife Dale Evans, his golden palomino Trigger, and his German Shepherd dog Bullet. 
Science in 2001
Stanford University researchers reported evidence for a built-in kink in the universe known as "charge-parity violation." This favored certain forms of matter over anti-matter counterparts.
Frankenheimer in 2002
John Frankenheimer, film and television director, died in Los Angeles at age 72. He was best known for social dramas and action/suspense films, like "Birdman of Alcatraz" (1962), "French Connection II" (1975) and "Ronin" (1998).
Ebsen in 2003
Buddy Ebsen, dancer and television actor, died in Torrence at age 95. He was best known in the television series "The Beverly Hillbillies" (1962-1971) and "Barnaby Jones" (1973-1980).
Government in 2010
Governor Arnold Schwarzenegger signed into law a bill for the humane treatment of egg-laying hens in California.
Environment in 2010
Fish in the Lower Crystal Springs Reservoir in San Mateo County reportedly have some of the highest mercury levels in California. The lake collected rainwater and water from Yosemite's Hetch Hetchy reservoir to provide drinking water to 2.5 million people in San Francisco, San Mateo, Santa Clara and Alameda counties.
Crime in 2011
San Francisco Giants dismissed Robin O'Connor, 41-year-old payroll manager, after she admitted to diverting over $600 thousand to her bank account. Further reviews found that she diverted over $1.5 million. O'Connor was sentenced to 21 months in federal prison.
Government in 2012
Lawmakers approved billions of dollars to pay for building the first segment of high-speed rail line from Los Angeles to San Francisco, the first dedicated line in the US.
Accidents in 2013
A Boeing 777 jet from South Korea, crashed and burned on landing at San Francisco International Airport. Two people were killed and some 40 critically injured.
July 7
War in 1846
U.S. forces captured Monterey without firing a shot. Commodore John Sloat took Alta California's capital because he feared the British might claim it for England.

Fire in 1889
The Great Bakersfield Fire destroyed most of town. 196 buildings burned, one man was killed and 1,500 people left homeless. The fire marked the transition of Bakersfield from a frontier town to a metropolitan city. After the fire, city fathers resolved to rebuild it bigger and better.
Government in 1908
The Great White Fleet sailed from San Francisco Bay. The fleet included 16 battleships with various escort ships, all painted white. It circled the globe from December 16,1907 to February 22 to demonstrate American military power.
Overland Journeys in 1919
The U.S. Army's First Transcontinental Motor Train left Washington, D.C. for San Francisco. The 62-day journey covered 3,250 miles.
Accidents in 1946
Howard Hughes crashed his prototype XF-11 reconnaissance aircraft in Beverly Hills. He tried to crash land at the Los Angeles Country Club golf course but clipped three houses. One was destroyed by fire and Hughes was badly injured. 
Radio in 1949
The police drama "Dragnet," recorded in Los Angeles, premiered on NBC radio. It became a television series in 1951 and revived in 1967. It told stories about Los Angeles police detective, Sergeant Joe Friday and his partners.
https://www.youtube.com/watch?v=6et9FHzMAr0&t=16s
Museums in 1965
The African American Museum and Library in Oakland opened. It preserves the history and experiences of African Americans in the Bay Area and Northern California.
Environment in 1997
California's million plus cows that reportedly produced $3 billion worth of milk leaked nitrates into the Central Valley ground water. Chino basin ground water was severely polluted due to dairies.
Fire in 2007
Wildfires consumed 17,000 acres in Inyo National Forest and 7,500 acres in Los Padres National Forest. 
Business in 2009
Google, in Mountain View, announced Google Chrome OS to target low cost netbooks.
Museums in 2012
USS Iowa, the storied battleship, opened as a museum at the port of Los Angeles. She fought in the Atlantic and Pacific during World War II and the Korean and Cold Wars.
Fradkin in 2012
Philip Fradkin, environmental journalist and historian, died in Point Reyes. His 13 books ranged from Alaska and California to Nevada, covering topics from water conservation and earthquakes to nuclear weapons. 
July 8
Forts in 1799
Czar Paul chartered the Russian-American Fur Company. It founded Russian colonies in today's states of Alaska and California. Fort Ross, on the Sonoma coast was its southernmost settlement. Today Fort Ross is a state historic park.

Immigration in 1905
Part of Angel Island, in San Francisco Bay, was allocated for a US Immigration Station that opened in 1910. Sometimes called the "Ellis Island of the West," it processed approximately 56,113 Chinese immigrants before it burned in 1940.
Labor in 1937
A 3-month hotel strike continued as San Francisco union members demonstrated in front of the Hotel Manx on Powell St. Owner Harvey Toy protested with a telegram to Mayor Rossi.
Sports in 1953
Neill "Wild Horse" Sheridan, of the Pacific Coast League Solons, hit a home run against the San Francisco Seals at Sacramento's Edmond's Field. The ball reportedly flew a record 613.8 feet.
Sports in 1986
Scott Zimmerman set a Guinness World Record for the "longest throw of an object without any velocity-aiding feature." He threw an Aerobie 1,257 feet at Fort Funston in San Francisco. 
Environment in 1986
A magnitude 6.1 earthquake struck North Palm Springs. Forty people were injured and property damage estimated at $6 million. 
Conrad in 1999
Pete Conrad, Jr., naval officer, test pilot, and NASA astronaut, died after a motorcycle accident near Ojai at age 69. He was the third man to walk on the moon. 
Fires in 2008
The Butte Lightning Complex Fire destroyed 41 homes overnight in and around Paradise. The next day 10,000 people were evacuated from the area.
Crime in 2009
Philip Day, 63-year-old former head of San Francisco City College, was charged with eight felonies for using public funds for political donations and other banned expenditures.
Crime in 2010
A Los Angeles jury found BART police Officer Johannes Mehserle guilty of involuntary manslaughter. The verdict sparked a riot in downtown Oakland with at least 50-100 people arrested for smashing windows and looting.
Business in 2010
Zap Inc., a Santa Rosa electric vehicle manufacturer, announced a merger with China's Jonway Automobile Co. Ltd. 
Borgnine in 2012
Ernest Borgnine, film and television actor, died in Los Angeles at age 95. In addition to winning an Oscar and Emmy Award, he was the voice of Mermaid Man on "SpongeBob SquarePants" (1999-2012).
Bridges in 2013
San Francisco Bay Bridge officials said repairs to cracked rods would delay the opening of the $6.4 billion Bay Bridge by at least 3 months. 
Prisons in 2013
Thousands of prisoners in California prisons continued a hunger strike. They protested Pelican Bay State Prison inmates being held in solitary confinement for decades in an attempt to disrupt gang activities in California prisons.
July 9
War in 1846
The US flag was raised over the plaza at the Yerba Buena, today's San Francisco. In Sonoma, the US flag replaced the bear flag, ending the short-lived California Republic.
Bridges in 1933
Construction began for the San Francisco Bay Bridge. It would be the world's longest steel structure. The eccentric Emperor Norton proclaimed a bridge be built in that very spot in 1872.

Labor in 1934
Two strikers shot to death by San Francisco police on July 5th – Bloody Thursday – were buried. 40,000 mourners filled Market Street in a funeral procession. 150,000 workers went on strike on July 16th, paralyzing the city.
Fires in 1953
The Rattlesnake Fire was started by an arsonist in Grindstone Canyon in Mendocino National Forest. It killed a Forest Service employee, 14 volunteer firefighters and burned over 1,300 acres.
Hanks in 1956
Tom Hanks, actor and filmmaker, was born in Concord. In addition to winning many acting awards, he voices characters in "The Polar Express" (2004) and the "Toy Story" series (1995-2017).
Business in 1956
Fred and Pat Cody opened Cody's Books in Berkeley. It "was a pioneer in bookselling, bringing the paperback revolution to Berkeley, fighting censorship, and providing a safe harbor from tear gas directed at anti-Vietnam War protesters throughout the 1960s and 1970s."
Art in 1962 
Andy Warhol's Campbell's Soup Cans exhibition opened at the Ferus Gallery in Los Angeles. It was his first one-man show. Warhol's Campbell's Soup Cans helped usher in pop art in the US.
Sports in 1968
The Philadelphia 76'ers traded Wilt Chamberlain to the Los Angeles Lakers. The Lakers paid Chamberlain $250,000, more than double the previous top team salary.
Government in 1975
Governor Jerry Brown signed a bill that reduced the penalty for possession of marijuana to a $100 fine. 
Movies in 1980
Walt Disney released the "Fox & The Hound." The 24th Walt Disney Animated Classic, tells the story of two unlikely friends, a red fox named Tod and a hound dog named Copper.
Justice in 1999
A Los Angeles jury ordered General Motors to pay $4.9 billion to six people burned when their 1979 Chevrolet Malibu fuel tank exploded following a rear end collision. A judge reduced that award to $1.2 billion. Punitive damages were reduced to $1.09 billion with $107 million in compensatory damages. General Motors continued to appeal.
Sanford in 2004
Isabel Sanford, stage, film and television actress, died in Los Angeles at age 86. She was best known for roles on "All in the Family" (1971–1975) and "The Jeffersons" (1975–1985). 
Fires in 2006
The Sawtooth Complex fire in San Bernardino County was started by lightning. It burned 61,700 acres, 50 homes, 8 mobile homes, 13 garages, 171 outbuildings, 191 cars and pick up trucks, 3 R.V.s, 27 trailers, 2 railcars and 9 tractors. There were 17 minor injuries and one fatality. It merged with the Millard Complex fire on July 14.
Lane in 2007
Charles Lane, actor, died in Santa Monica at age 102. He appeared in some 250 roles on film and television. His final screen appearance, at age 90, was in "The Computer Wore Tennis Shoes" (1995).
Education in 2008  
The California state Board of Education  make algebra mandatory in the eighth grade beginning in 2011, in order to bring the state into compliance with the federal No Child Left Behind program.
Business in 2010
Google said China renewed its license to operate a website, preserving its business in the most populous Internet market. Google quit trying to avoid Beijing's Web censorship.
Environment in 2010
Scuba divers began killing invasive Asian clams in Lake Tahoe. Long rubber mats were laid over half an acre in a test effort starve the clams of oxygen.
July 10
Post offices in 1851
A US post office opened at Mokelumne Hill. The Calaveras County town was one of the richest during the gold rush. Around 15,000 people lived there; Americans, Frenchmen, Germans, Spaniards, Chileans, Mexicans, Chinese and others. It was also a violent place, with at least a murder a week for seventeen weeks in 1851. In 2010 it was a peaceful community with 646 residents.
Business in 1875
The Arlington, Santa Barbara's first tourist hotel, was completed. The three-story, 90-room palatial hotel was located on State Street between Victoria and Sola streets. It burned on August 15th, 1909, was rebuilt then destroyed in an earthquake (1925).
Transportation in 1876
The Tehachapi Loop was completed. Almost 40 trains travel the loop daily, making it one of the busiest single-track mainlines in the world.
Environment in 1913
Temperature reached 134°F at Furnace Creek in Death Valley. This was a record high in the US for this date.
Simpson in 1947
O.J. Simpson, football star and actor acquitted in trial for the murder of his ex-wife, was born in San Francisco.
Civil rights in 1951
Dashiell Hammett, mystery writer, was sentenced in San Francisco to six months in prison. He refused to say where the Communist party got bail money. 
Theater in 1980
Sam Shepard's "True West" premiered in San Francisco and became a stage hit. The comic drama explored American myths and popular culture.
Blanc in 1989
Mel Blanc, comic and voice actor, died in Los Angeles at age 81. Known as the "man of a thousand voices," including for Bugs Bunny, Daffy Duck, Porky Pig, Sylvester and Tweety, Tazmanian Devil, Wile E. Coyote and Roadrunner. 
Environment in 1996
A landslide in Yosemite Valley closed the Happy Isles trail head. 162,000 tons of rocks and other debris fell, killing one camper and injuring 12.