September 8
Missions in 1771
Father Junipero Serra dedicated Mission San Gabriel Arcangel, the 4th of 21 California missions. The mission was the base from which settlers establiashed Los Angeles, which is why it is known as Godmother of the Pueblo of Los Angeles.
Missions in 1797
Father Fermín Lasuén dedicated Mission San Fernando Rey de Espana, the 17th of California's 21 missions. In 1842, six years before the Gold Rush, gold was found in the foothills near the mission, a place later named Placerita Canyon.
Business in 1862
Forty brokers formed a stock exchange to invest in risky Comstock Lode silver mines. They called it the San Francisco Stock Exchange Board.

Transportation in 1920   
Transcontinental air mail delivery began from New York to San Francisco. Pilots flew just during daylight hours because they followed the railroad tracks and other visual landmarks .
Accidents in 1923   
Seven U.S Navy vessels wrecked on Honda Point on the Santa Barbara County coast. Twenty-three sailors were killed. The spot, nicknamed the Devil's Jaw, is one of the windiest on the west coast. A squadron of 17 ships was practicing maneuvers but failed to take adequate readings. The disaster was the largest peacetime loss of Navy ships in U.S. history.
Crime in 1946
Boys playing near the Paramount Theater in San Francisco found a package containing body parts of Ramon Lopez, a flower dealer from San Leandro. His skull was found 18 years later at Hunters Point.
Politics in 1951
Delegates from 48 nations gathered in San Francisco to sign a peace treaty with Japan, formally ending the Pacific War. It is nicknamed the Treaty of San Francisco.
Dandridge in 1965      
Dorothy Danridge, actress, singer and dancer, died mysteriously in Hollywood. She was the first black actress nominated for an Academy Award for Best Actress in the film Carmen Jones (1954). She was given a star on the Hollywood Walk of Fame and a statue at Hollywood and La Brea Boulevard.
Transportation in 1997   
San Francisco Bay Area commuters faced huge traffic jams a day after BART workers, the commuter rail system, went on strike. An agreement ending the walkout was reached five days later.
Liebeskind  in 1997 
John Liebeskind died in Los Angeles. He was a leading researcher in the study of pain and found the brain controls pain by creating a chemical now known as an endorphin.
San Francisco in 2006
Mayor Gavin Newsom said 50 security cameras would be installed in public housing projects around San Francisco for public safety.
Conferences in 2007
"The Singularity Summit: AI and the Future of Humanity" opened at San Francisco's Palace of Fine Arts. It was concerned with machines becoming smart enough to reprogram themselves. Peter Thiel, PayPal founder, was the principal backer.
Protests in 2008   
U.C. Berkeley officials cut off the food and water supply to people continuing a 21-month-old protest in a lone redwood. They were protesting the planned removal of a grove of oak trees for construction of a new student athletic training center.
Crime in 2009  
Williams "Boots" Del Biaggio III, former co-owner of the San Jose Sharks hockey team, was sentenced to over 8 years in prison. Del Biaggio swindled $100 million to help buy a stake in the Nashville Predators hockey team and pay off debts.
Protests in 2011 
San Francisco police arrested 20-30 protesters at the Powell Street BART station. The station was closed for 2 hours because officers determined that demonstrators were creating unsafe conditions. Protesters hoped to force BART to disband its police force. 8-10 men smashed fare gates, card readers and ticket vending machines at the Glen Park Station.
Fire in 2013
A wildfire near Mount Diablo State Park burned over 800 acres.
Worthington in 2013
Cal Worthington, a car dealer who made himself famous with offbeat TV commercials, died at his Orland ranch at age 92.
September 9
Figueroa in 1835
José Figueroa, Mexican Governor of Alta California, died in Los Angeles. He was instrumental in Mexico's secularizing the missions starting in 1834, dividing mission lands into vast land grants which became many of the ranchos of California.

Odd Fellows in 1849
California Odd Fellows Lodge No. 1 was founded at the corner of Seventh and Market streets in San Francisco, a year to the day before California was admitted to the Union.
Government in 1850
California became the 31st state. Today Admission Day is a legal state holiday. California's admission to the Union was part of the Compromise of 1850, which balanced the free and slave states. 
Inventions in 1873
Emma Whitman of Oakland patented a kettle and pan scraper. "…it is cut in line with the center of the stem up to or near the stem; then bent at an angle of from thirty-five to forty degrees, so that when held in the hand with the stem down, and either side being held front, the left blade will incline at the angle required for scraping."
San Francisco in 1875
Lotta's Fountain, dedicated on Market Street in San Francisco, was a gift to the city from Lotta Crabtree. She got her start as a girl in the Gold Rush and became one of the most successful actresses of her era.
Sports in 1905 
In a boxing match for the lightweight title, Oscar Mathæus Nielsen, known as "Battling Nelson, the Durable Dane," kayoed San Francisco-born Jimmy Britt in the 18th round at a Daly City arena. Nelson had fought Britt for the lightweight title in 1904 but lost a twenty-round decision. A film of the 1905 match earned over $100,000 in1909.
Parades in 1909
San Francisco Work Horse Parade Association held a parade to honor the city's work horses. Some 2000 horses and 986 drivers paraded down Market Street before thousands of spectators.
Sports in 1965
Sandy Koufax, Los Angeles Dodgers Hall of Fame pitcher, became the sixth pitcher of the modern era, the eighth in history, to throw a perfect game. It was the first by a left-hander since 1880.
Warner in 1978
Jack Warner, movie mogul, died in Los Angeles. For 45 years, since 1910, he was the driving force behind what became the highly successful Warner Brothers Studios in Hollywood.
Sports in 1988
In the America's Cup race off San Diego, Stars and Stripes, a U.S. catamaran, beat a New Zealand monohull, 2-0. 
Sports in 1990 
The Oakland A's beat the New York Yankees, 7-3, completing a 12-game season sweep. It was the first time the Yankees were swept and only the fourth in major-league history. That season, Oakland finished first in the American League West with a record of 103-59.
Sports in 2001
Barry Bonds, San Francisco Giants outfielder, hit three home runs against the Colorado Rockies to give him 63 for the season. He passed Roger Maris' mark and moved closer to Mark McGwire's record.
Protests in 2008
Protesters in Berkeley climbed down from a redwood tree when U.C. Berkeley arborists cut down 42 oak trees in the way of a $124 million athletic training center. Their protest began on December 1, 2006. The university later sued the tree sitters $10,000 each to pay attorneys' fees.
Accidents in 2010
A natural gas PG&E pipeline explosion in San Bruno created a "wall of fire" more than 1,000 feet high that killed eight people. The massive explosion, triggered by a broken gas line, destroyed 37 homes, badly damaging 8 others.
Government in 2010
A federal judge in southern California ruled that the U.S. military's ban on openly gay service members, the Don't Ask Don't Tell policy, was unconstitutional under the First Amendment. It was a victory for gay activists know as the Log Cabin Republicans.
September 10
Overland trail in 1846
After inventorying supplies, the Donner Party realized they didn't have enough food for 74 people to survive the trip to California. So they sent riders ahead to Sutter's Fort to request aid. And then they continued heading west into the Sierras.
Business in 1879 
Pacific Coast Oil Co.,  founded in San Francisco, became Standard Oil Co. in 1906. The name changed to Standard Oil Co. of California (Socal) in 1926. it changed to Chevron Corp In 1984 then ChevronTexaco In 2001 and then back to Chevron Corp. in 2005.
Libraries in 1887
Pomona Public Library started with 400 books in a room of a building at Third and Main Streets. It was open two days a week from 2:00 – 5:00 PM. Annual membership and dues were $3. Today Pomona Public Library is central to its community.
Williams in 2005
E. Stewart Williams, architect, died in Palm Springs. He designed Frank Sinatra's Palm Springs home in 1947 and many other distinctive Mid-century style buildings, shaping the Coachella Valley's architectural landscape.
Wyman in 2007 
Jane Wyman, movie star and first wife of Ronald Reagan, died in Rancho Mirage. She appeared in 86 films and 350 television shows and won an Oscar for her role a deaf rape victim in "Johnny Belinda" (1948).
September 11
Forts in 1812
The Russian-American Company established a fort on the Sonoma coast as a southern outpost to support Russia's North American colonies. Today Fort Ross is a California State Historic Park.
Literature in 1835
Richard Henry Dana traded for cow hides and tallow, went ashore at San Pedro and saw a black sailor flogged, which he wrote about in Two Years before the Mast (1841).
Transportation in 1886
Los Angeles Electric Railway Company was formed. It opened on January 4, 1887 with a line from Pico Boulevard and Main Street  to Harvard Boulevard. Most of the horse and cable cars in Los Angeles converted to electric power In 1896.
Pico  in 1894
Pío de Jesús Pico, last governor of Mexican California, died in Los Angeles at age 93. He was a soldier with the Juan Bautista de Anza expedition (1775) to explore and colonize Alta California. Pico's ancestors were Spanish, African and Native American. His home is now a State Historic Park in Whittier.

Television in 1953
KSBW-TV began broadcasting in the Salinas-Monterey area. It shared a frequency with KMBY-TV in Monterey until they merged (1955).  Originally, KSBW was affiliated with NBC, ABC, CBS and DuMont, which folded in 1955. Today it is the primary NBC affiliate for the Monterey-Salinas-Santa Cruz market. 
Television in 1962 
KVCR TV, UHF digital channel 26, launched. It was the first successful UHF station in the Inland Empire and the first public television station in Southern California. Today it is part of the San Bernardino Community College District.
Music in 1967      
Charles Manson recorded his album "Lie: The Love and Terror Cult," produced by Dennis Wilson, of the Beach Boys. It was released months before his murder trial. Guns N' Roses covered one of his songs.
Transportation in 1972
BART, Bay Area Rapid Transit, opened its first line. The 26-mile track ran from Oakland to Fremont. Today BART operates five routes on 104 miles of track, with 44 stations in four counties.
Fleisher in 1972 
Max Fleischer, animator, inventor, film director and producer, died in Los Angeles at age 89. In the 1930's he introduced Betty Boop, Koko the Clown, Popeye, and Superman to the movies. He is the "Dean of Animated Cartoons."
Government in 2006 
The Pacifica town council voted to ban smoking on its public beaches and fishing pier. "This is not a no-smoking issue," said Mari Brumm-Merrill, director of parks, beaches and recreation in Pacifica. "We are concerned about what (cigarette butts) are doing to the wetlands we've restored." 
Belbart in 2009   
Larry Gelbart, comedy writer, died in Los Angeles. He developed the "MASH" television series (1972-1983), co-wrote for the Broadway musical "A Funny Thing Happened on the Way to the Forum" (1966) and the film "Tootsie" (1982). 
September 12
Business in 1857
James Birch, who founded the California Stage Co, which grew into the largest stage line in California, drown at sea. His San Antonio-San Diego Mail Line, nicknamed the Jackass Mail, delivered the first U.S. transcontinental mail.
Women in 1910 
Alice Stebbins Wells became the first policewoman in the U.S. when the Los Angeles Police swore her in. She was given a badge, assigned a telephone call box, handed a rule book and first aid book. She founded the International Policewomen's Association and traveled throughout North America to promote female officers.
Television in 1955
KNTV-TV in San Jose began broadcasting. It was the first station in the South Bay. Originally owned by Sunlite Bakery, at first it broadcasting from a bakery garage. Today it is part of NBCUniversal.
Counterculture in 1970 
Dr. Timothy Leary, professor and LSD guru, escaped from prison in San Luis Obispo.. He was in on marijuana-related charges. When he got to prison, he was given psychological tests to assign inmates to appropriate work details. Because he wrote some of the tests, Leary answered to work as a gardener in a low-security prison. 
Perkins in 1992 
Anthony Perkins, film actor and singer, died in Hollywood at age 60. He is best known for roles in Alfred Hitchcock's "Psycho" (1960) and its three sequels. 
Burr in 1993 
Raymond Burr, film and television actor, died in Healdsburg at age 76. He is best known for roles in television dramas "Perry Mason" (1957-1966) and "Ironside" (1967–1975).
https://www.youtube.com/watch?v=LVlf6E3bCcg
Business in 2005   
Oracle Corp., in Redwood City, confirmed that CEO Lawrence Ellison would pay $100 million to a charity to settle charges of insider trading.
Business in 2005
Oracle Corp., in Redwood City, bought rival Siebel Systems Inc. for about $5.85 billion. That continued a nine-month acquisitions spree that eliminated two of its biggest competitors.
Business in 2005
ebay, in San Jose, agreed to buy Skype, a start-up, for some $4.1 billion. That added free Web telephone calls to ebay's online services.
Government in 2006       
Governor Arnold Schwarzenegger signed a minimum wage bill increasing hourly wages by $.75 in January plus $.50 a year later to total $8 an hour. That was the highest state minimum wage in the nation.
Accidents in 2008  
A Union Pacific freight train crashed into a Metrolink commuter train, killing some 25 people. The Chatsworth wreck in was the deadliest U.S. passenger train accident in 15 years. Officials learned that the passenger train engineer, who died in the crash, sent a text message and failed to stop at a red light just before the collision.
September 13
Alta California in 1791
John Graham became the first U.S. citizen buried in Alta California. He joined Alejandro Malaspina's scientific Global Expedition in Spain in (1789). Graham, who died at sea, was brought ashore at Monterey and buried in the Royal Presidio.

Crime in 1859
David Terry, Chief Justice of the California Supreme Court, shot and killed David Broderick, a U.S. Senator, in a duel in San Francisco. Terry resigned and was charged with murder but not convicted. The men had argued about slavery and abolition.

Post offices in 1865
A U.S. post office opened in Petrolia, a community near Cape Mendocino first called New Jerusalem. It was the site of the first oil well in California (1865).

Transportation in 1935
Howard Hughes, of Hughes Aircraft in Glendale, set a speed record of 352 mph in his H-1 Racer at his test course near Santa Ana. He ran out of fuel and crash-landed. Afterwards he said, "We can fix her, she'll go faster". 
Television in 1953
KGTV-TV, originally KFSD-TV, began broadcasting in San Diego. It was the third television station to sign on in the San Diego market.
Parks in 1962
Point Reyes National Seashore was established on the Marin County coast. This 71,028-acre preserve, home to native cultures for thousands of years, is also home to over 1,500 species of plants and animals.

Television in 1974 
"Rockford Files," filmed at Universal Studios in Hollywood and starring James Garner, was first broadcast on NBC-TV. It continued to 1980.
Sports in 1983 
Rickey Henderson, Oakland A's, stole 100 bases for his third  season in a row.
Accidents in 2010 
PG&E said it would spend as much as $100 million to help rebuild the San Bruno neighborhood destroyed by the September 9 gas line explosion.

Frank in 2007 
Phil Frank, creator of Farley and Elderberries comic strips, died in Bolinas at age 64. He was published in the San Francisco Chronicle for decades.
September 14
Exploration in 1786
La Boussole and l'Astrolabe, French ships anchored in Monterey Bay for a 10-day visit. Afterward they set off to continue exploring around the world. But both ships wrecked and sank in a South Pacific storm.

Ranchos in 1844
Rancho Aguaje de la Centinela, a 25,000-acre rancho, was deeded. Today it would include Redondo Beach, Inglewood, Hawthorne, El Segundo, Lawndale, Manhattan Beach and Hermosa Beach.
Business in 1848
John Sutter Jr. arrived at Sutter's Fort from Switzerland to rescue his father's failing business affairs.
Missions in 1858
The Santa Barbara Mission registered its 4,771st baptism of a Chumash Indian.
Government in 1961 
San Francisco Police Department vice squad San Francisco Police raided the Tay-Bush Inn and arrested 103 people. All but 14 were men accused of dancing together and kissing. Charges were dropped against 101 of them. Art courtesy of Azurecricket.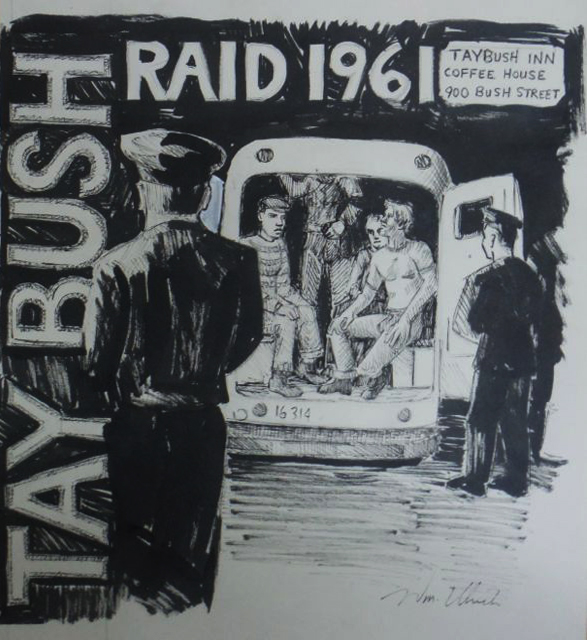 Protests in 1964 
In an effort to end student protests on campus, U.C. Berkeley announced a new policy prohibiting political action at the campus entrance at Bancroft Way and Telegraph Avenue.
Environment in 1913 
The temperature in San Francisco reached a record 101 degrees.
Gaynor in 1984     
Janet Gaynor, the first actress to win an Academy Award for Best Actress (1929), died in San Francisco. Her 34 movies included "Seventh Heaven" (1927) and "A Star Is Born" (1937). Gaynor was one of few leading ladies to successfully transition from silent to sound films.
Business in 2009        
Google, in Mountain View, introduced Fast Flip. It let users scroll through the contents of online newspapers like they leaf through pages in print.
September 15
Transportation in 1858
Butterfield Overland Mail service began delivering twice a week, year-round mail service. From St. Louis, Missouri to San Francisco took 25 days. The company's motto was: "Remember, boys, nothing on God's earth must stop the United States mail!"

Transportation in 1929
Southern Pacific railroad Modoc Line opened. It was a shortcut from Oregon, through northeast California to connect to their transcontinental line.
Japanese American Internment in 1942
The Merced Detention Camp closed. It was part of the mass incarceration of some 110,000 Californians of Japanese ancestry during World War II.
Sports in 1957 
San Francisco Seals, a Pacific Coast League baseball team, played their last game. They were founding members of the league in 1903, with the Los Angeles Angels, Portland Beavers, Oakland Oaks, Sacramento Solons and Seattle Indians. 
Ramone in 2004     
John Cummings, known as Johnny Ramone, guitarist and co-founder of the punk band The Ramones, died in Los Angeles. In 2003, he appeared on Time's "10 Greatest Electric-Guitar Players". Every year a Johnny Ramone memorial is held in the Hollywood Forever Cemetery.
Government in 2010  
California Attorney General Jerry Brown accused City of Bell officials of defrauding taxpayers of more than $5 million by granting themselves high salaries and bloated pensions. It demanded they reimbuse hundreds of thousands of dollars.