September 15
Transportation in 1858
Butterfield Overland Mail service began delivering twice weekly, year-round mail service. From St. Louis, Missouri to San Francisco took 25 days. The company's motto was: "Remember, boys, nothing on God's earth must stop the United States mail!"

Transportation in 1929
Southern Pacific railroad Modoc Line opened. It was a shortcut from Oregon, through northeast California to connect to their transcontinental line.
Japanese American Internment in 1942
The Merced Detention Camp closed. It was part of the mass incarceration of some 110,000 Californians of Japanese ancestry during World War II.
Sports in 1957 
San Francisco Seals, a Pacific Coast League baseball team, played their last game. They were founding members of the league in 1903, with the Los Angeles Angels, Portland Beavers, Oakland Oaks, Sacramento Solons and Seattle Indians. 
Ramone in 2004     
John Cummings, known as Johnny Ramone, guitarist and co-founder of the punk band The Ramones, died in Los Angeles. In 2003, he appeared on Time's "10 Greatest Electric-Guitar Players". Every year a Johnny Ramone memorial is held in the Hollywood Forever Cemetery.
Government in 2010  
California Attorney General Jerry Brown accused City of Bell officials of defrauding taxpayers of more than $5 million by granting themselves high salaries and bloated pensions. It demanded they reimbuse hundreds of thousands of dollars.
September 16
Alta California in 1810
The Mexican War of Independence from Spain began. Freedom from Spain marked the beginning of Mexican California.
Crime in 1880
Charles Bowles, English born gentleman bandit known as Black Bart, left poems at the scene of his crimes. He held up Wells Fargo stage coaches 28 times. The 13th was in Jackson County, Oregon a mile from the California border.
Alturas in 1901
Alturas incorporated, making it was the only city in Modoc County. Formerly called Dorris Bridge, Dorris' Bridge and Dorrisville, Alturas had a population of 2,827 in 2010. It occupies what was initially an Achumawi (Pit River) village known as Kosealekte or Kasalektawi.
Television in 1949
KABC-TV channel 7 in Los Angeles began broadcasting. It was the last VHF television station licensed to Los Angeles to sign on. It has used the Circle 7 logo since 1962. Today it is owned by The Walt Disney Company.
Sports in 1962
Ruth Jessen won the Ladies Professional Golf Association Open in Sacramento. She won 11 times on the LPGA Tour between 1959 and 1971.
September 17
Presidios in 1776
El Presidio Real de San Francisco, built to guard the entrance to the Bay, was dedicated. It was one of four Spanish military outposts in Alta California, including ones at San Diego, Santa Barbara and Monterey. Today the San Francisco Presidio is a National Park.
Missions in 1804
Father Estévan Tapis dedicated Mission Santa Inés, near modern Solvang. It was the 19th of 21 California mission and the site of a Chumash revolt in 1824 that spread to Mission Santa Barbara and Mission La Purisima. Chumash warriors attacked Mission La Purisima, captured it and took the soldiers, priests and civilians inside as prisoners. In the end, the Chumash fled to their ancestral land.

Fires in 1850
San Francisco burned for the fourth time in a year. The blocks that burned had burned in June so the loss was not as great as before.

Emperor Norton in 1859
After Joshua Norton, a San Francisco businessman, went bankrupt, he proclaimed himself Norton I, Emperor of the United States and Protector of Mexico.
Emperor Norton in 1872
Emperor Norton decreed: "Whereas, we issued our decree ordering the citizens of San Francisco and Oakland to appropriate funds for the survey of a suspension bridge from Oakland Point via Goat Island; … we do hereby command the arrest by the army of both the Boards of City Fathers if they persist in neglecting our decrees." That decree is why some argue the Oakland Bay Bridge should be named for him.

Crime in 1882
Charles Bowles, English born gentleman bandit known as Black Bart, left poems at the scene of his crimes. He held up Wells Fargo stage coaches 28 times. The 24th was at Bass Hill in Shasta County.
Inventions in 1895
Sesi Kell of Los Angeles patented a baby walker. "The object of my invention is to provide a device of this class which will support the child in an upright position and guide it in a circular course, when desired, and which, when it is desired to allow the child to rest, can quickly be arranged to seat the child with a play-table surrounding it."

Transportation in 1911
Calbraith Perry Rodgers flew the first transcontinental flight – New York to Pasadena – in 52 days with many intentional and accidental stops.

Television in 1948
KCOP-TV channel 13 in Los Angeles/Hollywood began broadcasting. Channel 13 was first called KMTR-TV then changed its call letters to KLAC-TV and adopted the nickname "Lucky 13". Today the station is owned by 21st Century Fox.
Sports in 1950
San Francisco 49ers, formerly an All American Football Conference team, played their first NFL game. They lost to the New York Yanks, 21-17.
Sports in 1959
Ground was broken for Dodger Stadium. It is carved  into the hillside of Chavez Ravine, overlooking downtown Los Angeles to the south and the San Gabriel mountains to the north.
Sports in 1981
Fernando Valenzuela, Los Angeles Dodgers pitcher, set a National League rookie record with his eighth shutout of season. He struck out 12 batters in a row.
Sports in 2004
Barry Bonds became the third player, after Hank Aaron and Babe Ruth, to hit 700 homers in his career.
September 18
Indians in 1863
A group of Koncow Maidu reached Round Valley in Mendocino County after a forced march from their ancestral homeland near modern Chico. 435 people were lead away under guard to began the march on August 28. 277 survived.
Business in 1882
Pacific Stock Exchange opened. Forty members organized a marketplace for mining company stocks after the Comstock Lode strike. Los Angeles Oil Exchange opened in 1889. They merged in 1957. Today the San Francisco Stock Exchange building is a fitness center.
Crime in 1975
Patty Hearst was arrested after a year on the FBI Most Wanted List. The 19-year-old newspaper heiress was kidnapped from her Berkeley apartment by the Symbionese Liberation Army, a revolutionary group. She was brainwashed then joined them in a bank robbery. Hearst was found guilt and imprisoned for almost two years before her sentence was commuted by President Jimmy Carter. 
Government in 1979
Governor Jerry Brown appointed Steven Lachs, as a judge of the Los Angeles County Superior Court. That made him the first openly gay judge in the U.S.
Sports in 1993
Mighty Ducks of Anaheim played their first NHL preseason game against the Pittsburg Penguins. 
September 19
Transportation in 1868
Groundbreaking started for construction of the Los Angeles & San Pedro Railroad. The 22-mile track was the first railroad line in Southern California.
Business in 1957
Eight engineers formed Fairchild Semiconductor in Santa Clara. The "Fairchild Eight" became key individuals who developed the computer industry. 
Parsons in 1973      
Gram Parsons, rock band leader, died at the Joshua Tree Inn. Phil Kaufman hijacked Parson's body and burned it in the desert. Parsons' bands included the Byrds and the Flying Burrito Brothers with singer Emmylou Harris. 
Transportation in 1982
Streetcars stopped running on Market Steet after 122 years of service. Muni planned to run modern light rail vehicles in an underground subway instead. To celebrate the end of an era, Muni ran two historic streetcars for a few weekends. They were so popular that vintage streetcars on Market Street are part of San Francisco's identify today.
Redenbacher in 1995   
Orville Redenbacher, popcorn magnate, died in Coronado at age 88. His face was identified with his brand. During the mid 1970s, Redenbacher sold a third of the unpopped popcorn in the U.S.
Environment in 2011     
Companies responsible for the Cosco Busan oil spill in the San Francisco Bay in 2007 agreed to pay $44.4 million to restore bay habitat and reimburse agencies that responded to the disaster.
Business in 2013
Disney Interactive announced the closing of the MMO games, Toontown Online, Pirates of the Caribbean and Pixie Hollow. A month earlier, Disney stated that it would be "shifting its focus to other online and mobile play experiences, such as Club Penguin and a growing selection of mobile apps."
Business in 2014
Disney Interactive reopened, Toontown Rewritten, the MMO game, one year after Toontown Online's closed.
September 20
Transportation in 1859
A Pacific Railroad Convention meeting in San Francisco brought together men with conflicting interests. Theodore Judah convinced them to support his vision for the Transcontinental Railroad.
Inventions in 1881
Mary McMaster of Antioch patented a fruit drier for stoves. "In use the wheels and shelves are filled with fruit … and these are put in place. The door and the opening in the bottom are closed, and the device is placed on the stove with the pipe coming up between the hangers S and through hole W, the slide \V is put in place, and the hinged front]? closed. To make all tight the pieces G and H are slid on and together. By rotating the wheels the different portions are brought around to the under side. To use the device as a heater or warmer, it is taken from the pipe, the cover Y taken from opening X, all the rest made tight, and the device placed on top the stove."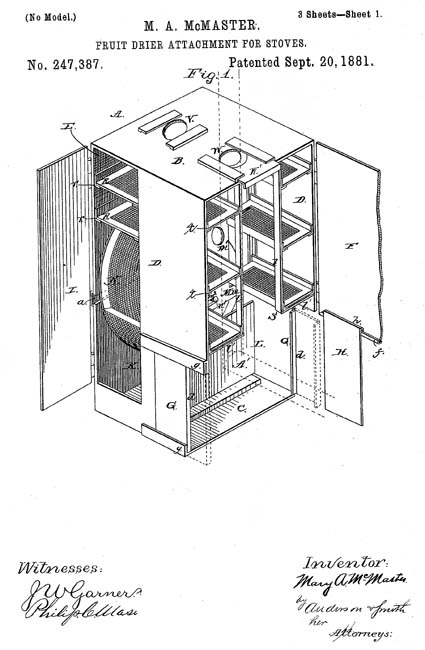 Fruit Drier Attachment for Stoves
Park in 1960 
David Park, painter, died in Berkeley at age 49. His key works include "Kids on Bikes" (1950), "Untitled" (1958) and "Torso" (1959). 
Newspapers in 1966
Allen Cohen published the San Francisco Oracle, a Haight-Ashbury underground newspaper, featuring visionary art and Beat era writers. Cohen was arrested earlier in 1966 for publishing The Love Book by Lenore Kandel, convicted and fined $50. The Oracle folded in 1968.
Sports in 2005
Sacramento Monarchs won their first Women's National Basketball Association championship, defeating the Connecticut Sun in game 4 of the WNBA finals, 62-59. Yolanda Griffith had 14 points and 10 rebounds. She was unanimously voted the series MVP; averaging 18.5 points and 10 rebounds per game. 
Environment in 2006 
California Attorney General Bill Lockyer sued major U.S. and Japanese auto companies. He charged that emissions from their vehicles contributed significantly to global warming, harmed resources, infrastructure and the health of Californians, costing the state millions of dollars.
Environment in 2008
California Coastal Commission sponsored its annual coastal cleanup. 55,634 volunteers collected over 742,000 pounds of debris. 
September 21
Exploration in 1769
Gaspar de Portolá camped west of the Nacimiento River. He was searching for Monterey, to settle with Father Crespí, 63 leather-jacket soldiers and a 100 mules loaded with provisions. One of the men wrote in his diary, "We rested at this place so as to give time for the scouts to examine the country carefully, and also to allow the animals to recuperate somewhat, as they were in bad condition."
Ward in 1920
Jay Ward, creator and producer of television cartoons, was born in Berkeley. He was involved with "Peabody and Sherman" (1959-1960), "Rocky & Bullwinkle," (1959-1964), "George of the Jungle" (1967), "Super Chicken" (1967) and "Dudley Do-Right" (1969-1970).
Sports in 1970
Vida Blue, Oakland A's, no-hit the Minnesota Twins, 6-0 at Oakland-Alameda County Coliseum. The only baserunner was Harmon Killebrew's fourth-inning walk.
Art in 2006 
Kirby Scudder, a 50-ear-old Santa Cruz former bike messenger, set up 500 giant flashlights, shining skyward every 30 feet along West Cliff Drive on the Pacific Ocean in a tribute to International Peace Day.
Business in 2008
Oracle's 22nd annual OpenWorld customer conference opened in San Francisco with some 43,000 people attending. Today Oracle OpenWorld is an annual event for business decision-makers, IT management and business users.
September 22
Politics in 1817
At Fort Ross, on the Sonoma coast, representatives from the Russian-American Company signed a treaty with the Kashaya Pomo, who lived there. Russians needed an outpost south of their Alaska settlements for agriculture and hunting seals.
Crime in 1880
Charles Bowles, English born gentleman bandit known as Black Bart, left poems at the scene of his crimes. He held up Wells Fargo stage coaches 28 times. The 14th was in Jackson County, Oregon three miles from California border.
Sports in 1969
Willie Mays, San Francisco Giants, became the second player to hit 600 home runs. One of baseball's greatest players, his statue stands in front of the Giants Stadium.
Crime in 1975
Sara Jane Moore, in San Francisco attempted to assassinate President Gerald Ford. She and Lynette Fromme, who also tried to kill Ford, are the only women who tried to assassinate a U.S. president. 
Transportation in 1982
San Francisco cable cars made a last run before closing for a 20-month, $60 million renovation. The first line began operation since 1873.
Lamour in 1996
Dorothy Lamour, film actress and singer died in North Hollywood at age 81. She was in a series of comedies with Bing Crosby and Bob Hope in the 1940s. She was a popular pinup girl among U.S. servicemen during World War II. 
Business in 2006 
Patricia Dunn, Hewlett-Packard chairman of the board, resigned after the company's investigation of media leaks from their boardroom. She was charged with four felonies but criminal charges against her were dropped. 
Business in 2010
Recurrent Energy, headquarterd in San Francisco, agreed to be purchased by Sharp Corp., Japan's biggest solar panel manufacturer, for some $305 million. "Since 2006, Recurrent Energy has developed and sold more than 520 MW of solar PV projects, won more than 1.1 GW of power purchase agreements, and secured more than $4B of project debt and equity financing."
Protests in 2011
Some 23,000 Sutter Health and Kaiser Permanente nurses went on a one-day strike in northern and central California. They protested benefit cuts and other concessions sought by hospital management.